The Guys Who Travel went to Vegas last weekend, and on my flight down, I got Rouged! For those unfamiliar with the term, Rouge is Air Canada's new "low cost" airline. In order to cut costs, Air Canada has created a new discount airline to fly on what they deem to be mainly "leisure travel" routes. The term "to get Rouged" refers to when someone books a ticket on a mainline Air Canada flight, but unexpectedly ends up flying Rouge. The term seemed to gain popularity after Air Canada switched all of their Vancouver - Los Angeles routes to Rouge, and then went through the roof after Rob Lowe tweeted his experience flying the airline. In my case, technically I wasn't "Rouged" since I knew what I was getting into (and as you will read, I was happy/lucky to be on any plane at all to Vegas). But here's my story of last Friday, and my thoughts on Rouge.
Friday night was not a good night to be leaving Toronto Pearson. Scattered thunderstorms through the area were causing numerous delays. I of course had booked a complicated itinerary down to Las Vegas in order to try to maximize my status miles (to make sure I hit Premier Platinum on United this year). I was scheduled to fly Toronto -> Chicago -> Los Angeles -> Las Vegas, all on United metal, leaving at 5pm and arriving around 11pm Vegas time. My connections were tight, but so long as there were no delays, it was doable.
Alas, with the weather delays I wasn't going to make it. My Toronto -> Chicago flight was showing a 45 minute delay, and I probably wasn't going to make the connection. (As it turned out, the delay ended up being 3 hours on that flight!). Knowing that any delays would cause me to misconnect, I had already researched all of the other ways of getting to Las Vegas that night on Star Alliance metal. It was too late in the day for any other purely United options, but I knew that Air Canada could get me there. The direct Air Canada flight from Toronto to Las Vegas was on Rouge, so I was trying to avoid that, since I had heard terrible things about Rouge. And equally importantly, flying direct earns fewer status miles!
There was a direct mainline Air Canada to Los Angeles flight that would give me time to connect to my United segment from Los Angeles to Las Vegas. It would mean transferring from terminal 2 to terminal 7 at LAX, which involves either a slow shuttle bus or a jog through the parking lot at the top of "the horseshoe", but it could be done. I called UA and they were more than happy to switch my ticket to the Air Canada flight. When I have done this in the past, usually they need to call Air Canada to confirm the space — which is sometime impossible to do since the United agents need to call the normal Air Canada number and can be stuck on hold for eternity — but that's a story for another blog entry. They didn't call AC this time, which is probably good since if they had they probably wouldn't have been been given "permission" to do it. When I went to the Air Canada customer service desk the agent threw a fit: "UNITED SHOULD NOT HAVE BOOKED YOU ON THIS FLIGHT. It is oversold!!". I played dumb and just said - well this is what United did and they told me it was confirmed (and indeed it was a confirmed reservation and not standby — while i didn't have a seat assignment, had AC not got me on the plane they would have had to pay me compensation for being bumped).
I went to the gate for the LAX flight and the agent there was able to give me a seat assignment. But then another round of storms came through. And I realized there was no way I was going to make the connection in LAX. While AC hadn't officially posted a delay of the flight yet, it was a few minutes before scheduled take-off time and the aircraft hadn't even arrived yet.
So back on the phone with United. Next plan was to fly Toronto to San Francisco on Air Canada, and then onward to LAS on United. But the agent wasn't able to re-ticket me on the new itinerary. Since I was already checked into the Air Canada flight to LAX, they couldn't make any changes to the e-ticket. The United agent stayed on the line with me as I asked the AC LAX-flight gate agent to "uncheck me in". She did, but the United agent still was not able to change the ticket. I played middleman between the AC agent in front of me and the UA agent on the phone trying to get it resolved. The AC agent claimed I was offloaded from the LAX flight so it should be fine. The UA agent said that she needs AC to "push the coupon" back to UA! This went on for a while, with both agents calling their help desks trying to figure out how to resolve the issue (and with the UA agent periodically telling me that the AC agent must not know what she is doing LOL). This is one time where I wished paper tickets still existed. Then I would have a flight coupon in my hands instead of something theoretical bouncing between computers! UA came up with a solution first — they just issued me a new e-ticket with a new ticket number for the YYZ-SFO-LAS flights and attached it to my PNR. (And I want to note here that every time I have called United for an issue like this, the agents have been AMAZING. In this case she was on the phone with me for probably half an hour, and seemed to honestly care about getting me to my destination, even if the long call was screwing up her call centre stats)
So in theory all would be good. I would have an hour to connect in SFO, and would get to Vegas around 12:30am. And the weather was clearing so hopefully no more weather delays.
Alas, while waiting at the gate to SFO, they announced that there was a mechanical issue with the plane, and there would be a two hour delay. I don't really get upset when there are mechanical delays — I'm happier that they find the issue while we are in the ground rather than in the sky! But it meant getting pro-active again. I already new that the direct Rouge flight to Las Vegas was overbooked, but I pushed the AC agent to put me on the standby list. I would rather fly Rouge than not make it to Vegas at all that night (insert "First World Problems" comment here).
Since same-day rebookings from United onto Air Canada get booked into a really high fare class (full Y in this case), in addition to having Star Alliance Gold status, I knew I would be near or at the top of the standby list. And with the weather issues that night there was a good chance that passengers flying in and connecting in Toronto wouldn't make it and seats would open up. And I was right. As boarding for the flight started, I was summoned to the gate and was given my boarding pass. I was about to experience Rouge!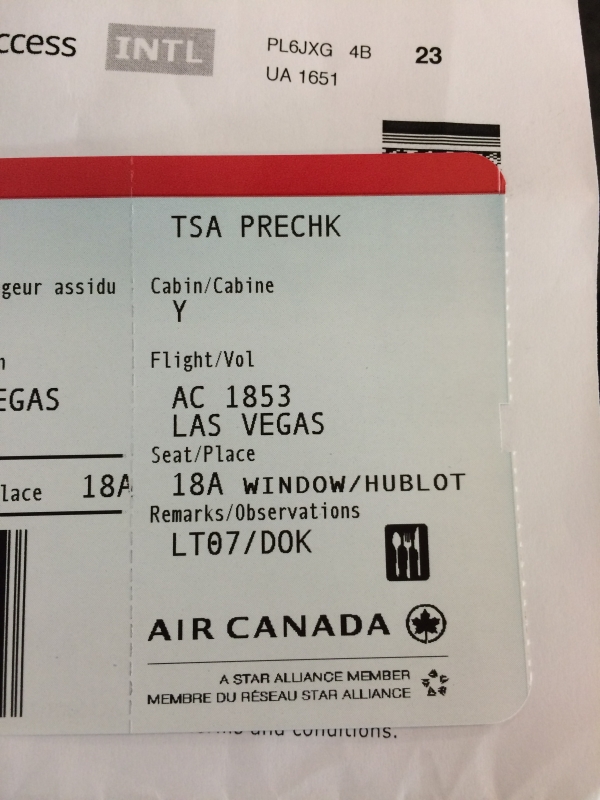 FLYING ROUGE
As soon as I walked on the flight, I heard people complaining. People in "Premium Rouge" were essentially going WTF to each other. "Premium Rouge" is the same seat and seat pitch as regular Rouge, with the middle seat blocked off. If you have ever flown "business class" on Lufthansa on a short-haul intra-Europe flight, it's similar, only with even less leg room! Obviously THESE people had not done research to see what flying Rouge was all about. I heard someone say to another "I hope you used points and didn't pay money for this". (Personally, I would have been upset to "waste" points on that!)
As I made my way back into economy, I was dreading the flight ahead. Yes, although I was happy to be making it to Vegas at all, I feared I would be crammed into a window seat with almost zero leg room for the next 4.5 hours. And then, as I got to my row, I realized I had won the Rouge lottery: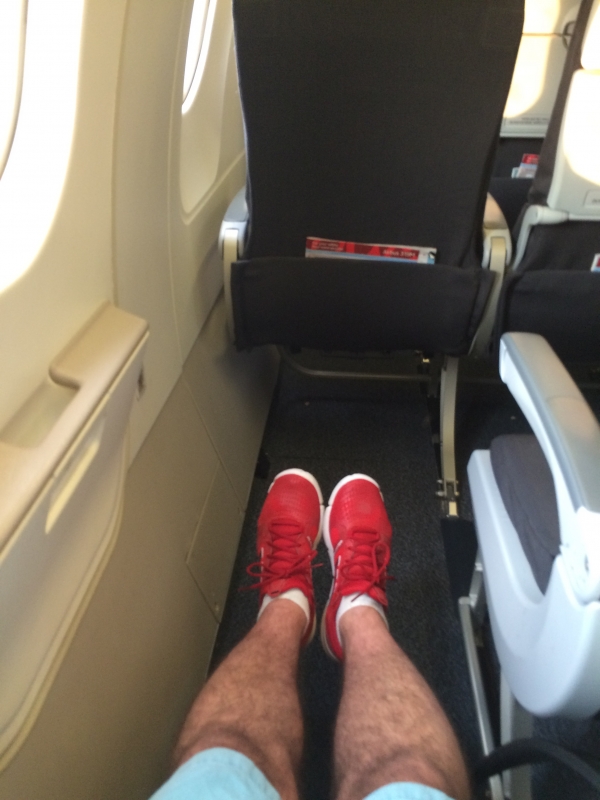 (The colour of my shoes is purely a coincidence!)
I almost cried. Hopefully this would be a sign of the luck-to-come for my Vegas weekend (for the record, it wasn't). There are only two seats like this on the plane. They are available to pre-book (for a fee), but thankfully no one had, which is why it went to me as a standby. I got a LOT of evil-eye looks from other passengers boarding as they saw my amazing seat and then realized the contortions they would have to twist into for the duration of their flight. (And to make things even sweeter for me, the middle seat beside me remained open!)
Since there are no video screens on the plane (more on that in a bit), the flight attendants had to do the safety demonstration the old-fashioned way - LIVE! They unfortunately only wear their world famous Justin Timberlake hats as your board -- the safety demonstration would have been even snazzier with them on. (Although since my flight attendant looked like European Bradley Cooper he had my undivided attention :-) )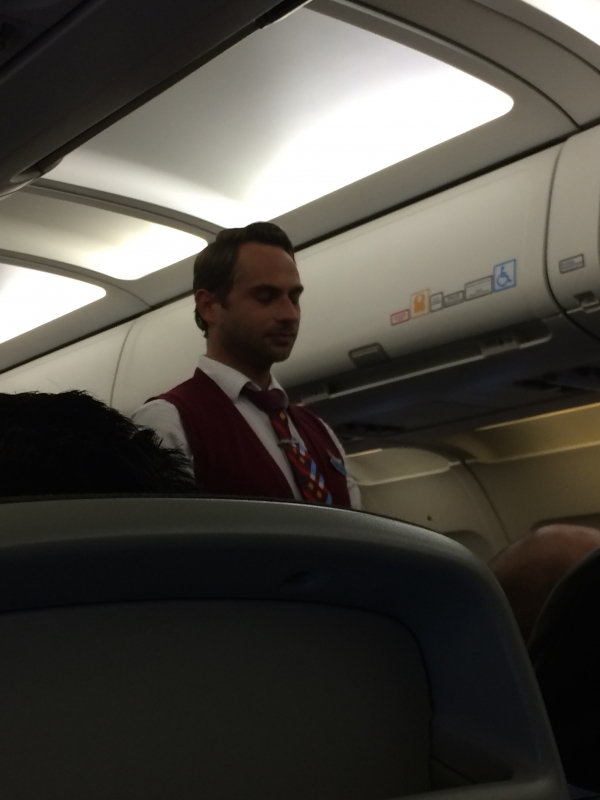 Soon enough we were in the air. The food and beverage service was very much like mainline Air Canada within North America. The "buy-on-board" menu seemed exactly the same. Since as mentioned United booked me into "full fare economy" (Latitude in Air Canada speak) when I got moved to AC metal, I was entitled to one free "snack" and "meal" item. (The flight attendants are supposed to have a list of who is entitled to this, but it also shows on the boarding pass as a cutlery icon in case they don't). So I got my sodium fill for the week with a cup-o-soup and beef sandwich (which actually wasn't half bad).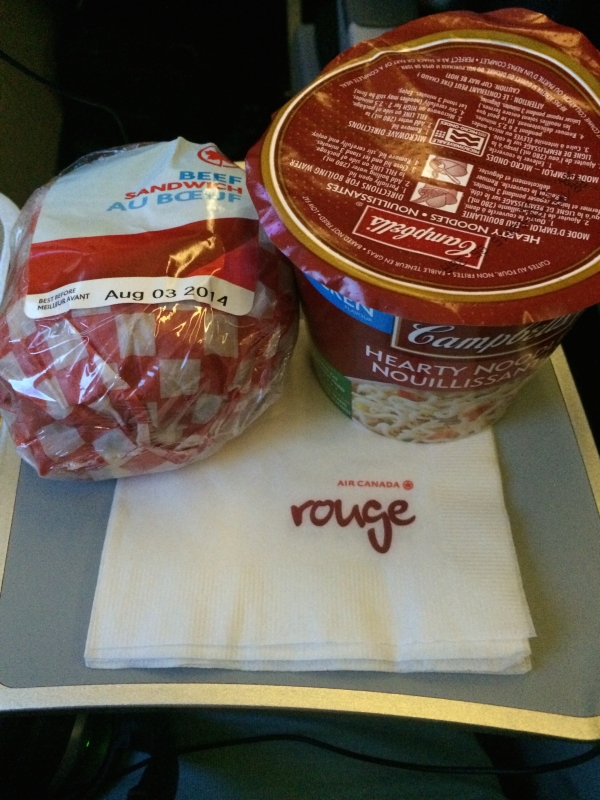 So there are no TV's on Rouge planes. That part is actually fine with me, since I hate watching movies on the crappy seat-back TV screens on a plane. But I think it surprised a lot of people around me, since I heard grumbling on that too. What Rouge does have though is a WiFi network on the plane allowing you to watch movies and tv shows on your own tablet. (I believe that United is also using a similar system on some of their 747s that are close to their end of service and not worth retrofitting with tv's).
In theory, this is a fantastic idea. Most people own some sort of device these days, and Rouge will rent you one for $10 if you don't. I tested out the streaming and it worked really really well. Certainly not a high-definition stream, but definitely watchable on my iPad. The only problem is that there are no power ports on the plane!!! So make sure that your device is fully charged before boarding!
They advertise that you need to download the Air Canada app prior to boarding in order to watch movies, but I found that the streaming worked equally well going through Safari. And it worked on my iPhone as well as my iPad. I didn't have an Android device to test it on, or a computer for that matter, but I don't see why it wouldn't work well on those either.
As these screenshots show, there is a fair amount of selection to choose from. And the interface is pretty snappy — certainly better than the seat-back screens on Air Canada that were state of the art when they were installed decades ago, but now crash if you look at them the wrong way.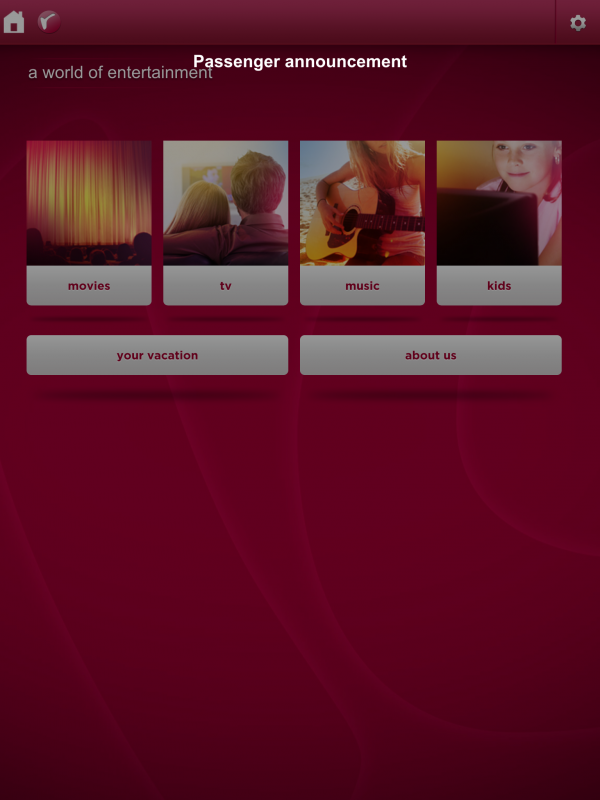 (Note how the streaming stops when there is a flight attendant announcement. Very smart!)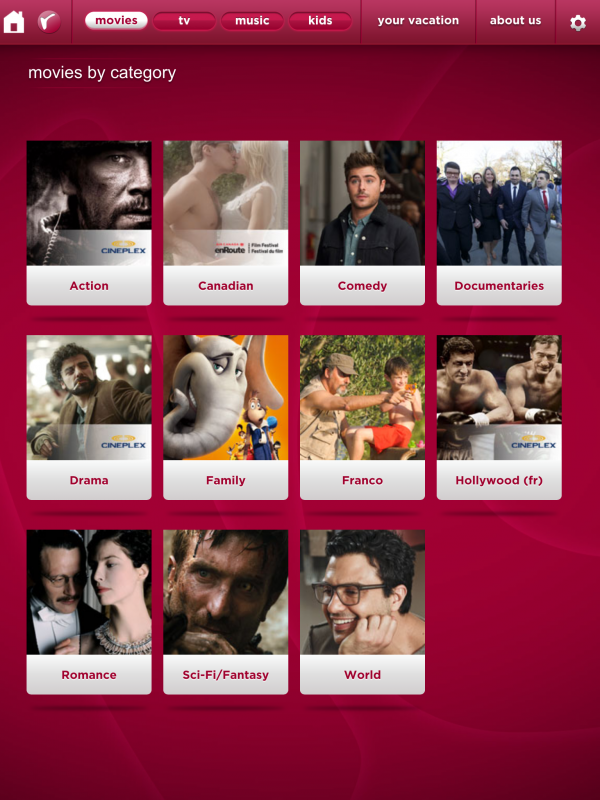 The WiFi network on the plane is just used for streaming media. There is no connection to the ground, so no Internet connection. And no live flight map, which is the only thing that I DO use the seat-back tv's for.
So at the end of the day, I must say that I didn't mind my Rouge experience. But I definitely do not plan to every fly them again if I'm not able to prebook that particular seat. The legroom really seems unbearable in any other row — and note that I'm only 5'8"!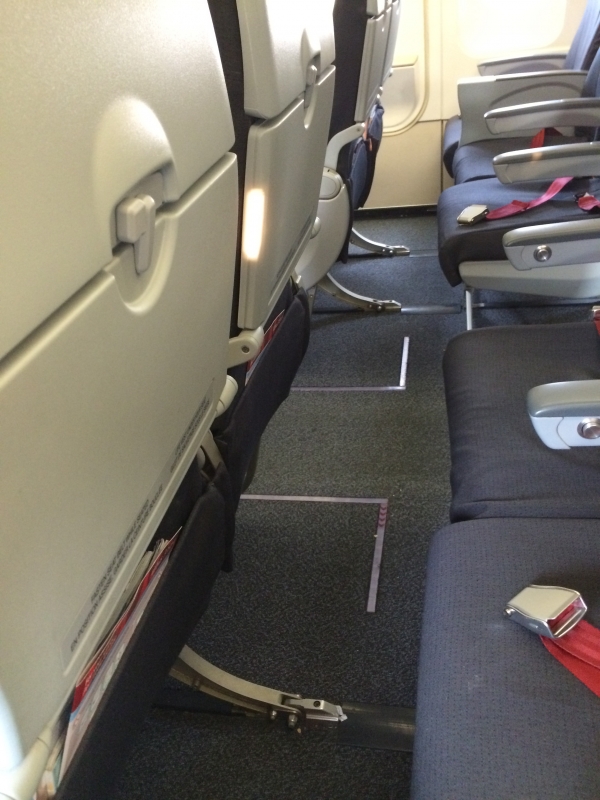 Of course I should be happy that I even got to Vegas that night at all! Zak was scheduled to fly on US Airways via Charlotte on a points ticket. When the Toronto to Charlotte flight got delayed, he was on the phone trying to get US Airways to rebook him on the direct Westjet flight to Las Vegas, since that is codeshared with American Airlines (who is merging with US Airways). But no luck, they either wouldn't or couldn't do it (I'm not sure which — for sure they could have had it been actual AA metal, but since it was Westjet it's possible that they actually couldn't). He made it to Charlotte but indeed missed his connection. They were going to put him on a flight the next day that got him to Vegas around 1pm, but he was smart enough to be proactive and got on a flight to Phoenix that night. He had to pay for a hotel in Phoenix himself since the delay was due to weather, but at least he was able to get a PHX-LAS early Saturday morning to salvage most of his weekend!
My flight home was much less eventful. United metal Vegas -> Houston -> Toronto. And my free upgrades cleared to business class on both legs (surprisingly - since I'm only United Gold this year and most flights have enough United 1K and Platinum passengers to fill business before they start giving the seats to Gold members). So while Rouge was fine, I'll take the front of the United bus anyday!