Those who know the 3 GuysWhoTravel personally know that we have our iPhones permanantly affixed to our hands. Sure, some may claim it's a problem, but we think we're doing just fine, thank you very much! (And yes, we have been known to line up at the Apple Store at 3 in the morning when new equipment comes out)
Our addiction to our phones doesn't end when we travel. It only grows stronger, since it's become an integral part of the experience. Here are a few of the apps that I find indispensable for travel junkies like us.
Trip It
Even if you only travel once in a blue moon, go to www.tripit.com and open an account! And if you have an iPhone, download the app! (There are versions for Android, Blackberry and Windows Phone 7 as well). For the basic services, it's totally free.
Think of Trip It as your personal travel organizer. When you make any kind of reservation (air, hotel, restaurant), mail the confirmation e-mail to plans@tripit.com, and Trip It will automatically add the information to your account. The app on your phone will automatically be able to pull up all of the itineraries you have added, including flight times, PNRs and confirmation numbers. No need to print out all of the reservations before heading on your travels - everything is consolidated in one place!
Steven and I pay for the enhanced service "Trip It Pro". The main benefit of that is that it allows us to see each other's full travel plans in our own apps. Other benefits include automatic monitoring of our flights (with notification of any flight time changes or cancellations), as well as a service to keep track of points/miles earned in a multitude of different airline/hotel programs.
So do not pass GO! Get this app!!!! Download for iPhone here.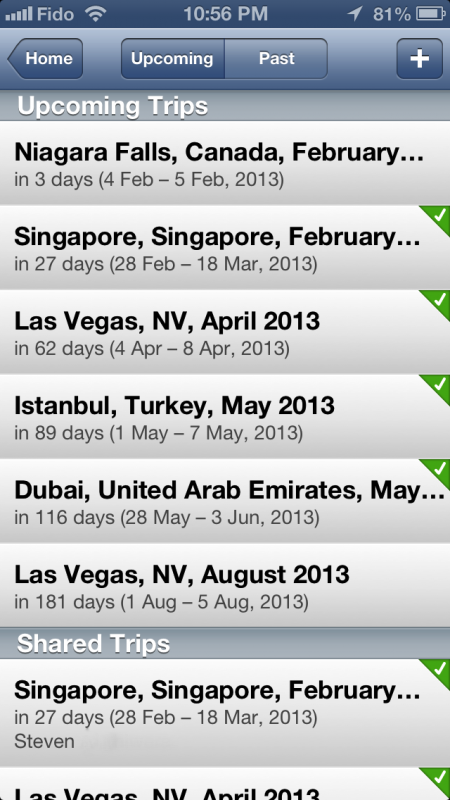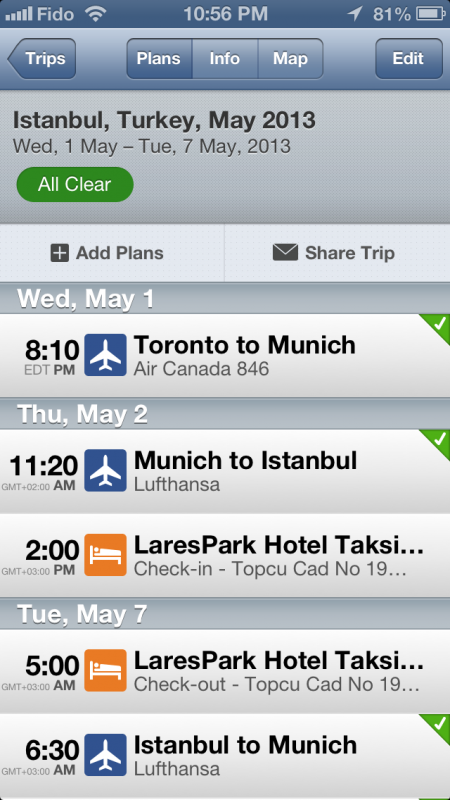 Flight Track Pro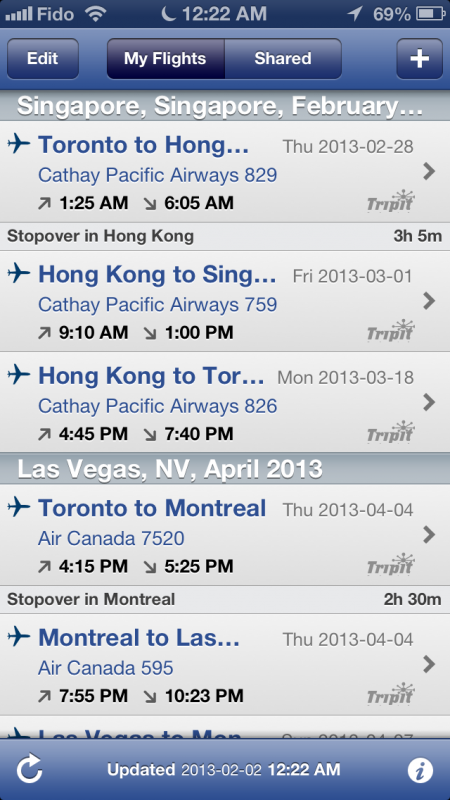 Until last week, I wouldn't have thought of including this app here. I've had it for a long time, since before I was paying for Trip It Pro. It can link into the data you have stored in Trip It, and has a delay notification service similar to Trip It Pro. I mention it because it seems to have more timely notifications than Trip It, at least from my one observable datapoint.
When we were coming back from L.A. last week on our LAX->LAS->IAH->ORD->YYZ itinerary, all was going well until we got to ORD. While we were sitting in the new United lounge in terminal 2 (which is stunning by the way), Flight Track Pro sent me a push notification that our flight to Toronto had been delayed an hour. I checked the United departures board in the lounge, and it was still showing the flight as on time. I checked in Trip It, and it was still showing the flight as on time. I checked in the United app, and it was still showing the flight as on time. I checked on the status of the incoming metal that would become our flight, and that TOO was showing on time. I figured that Flight Track Pro must have screwed up, so we made our way down to the gate at the scheduled boarding time. It was a full 20 minutes after Flight Track Pro notified me of the delay that things started going bing bing bing, and Trip It Pro and United notified me of the delay. I have no idea where Flight Track Pro is getting it's delay information from, and how it can be better than United's own systems, but I was pretty impressed!
Download for iPhone here.
OpenTable
OK, you're at your destination, and it's time to make dinner reservations. You can do it the old fashioned way, and call up the restaurant, or use the consierge at the hotel. Or you can avoid all of the messy human contact and do it through OpenTable instead. LOTS of restaurants use the OpenTable reservation system, which allows you to instantly see the availability either on their website or on the app. A few clicks later and a reservation is made. As an added bonus, you collect OpenTable points for every reservation you make through the app. For normal reservations you get 100 points, although some restaurants give 1,000. 2,000 OpenTable points can be redeemed for a $20US gift certificate (or for a $26 Canadian dollar gift certificate -- obviously OpenTable hasn't looked at exchange rates lately!)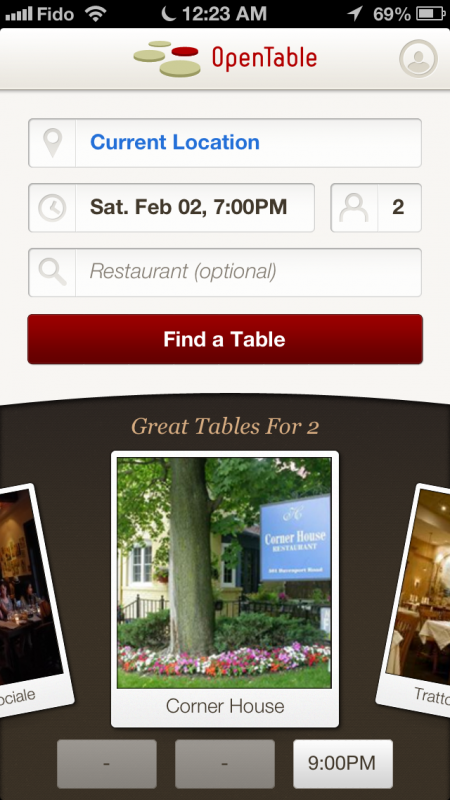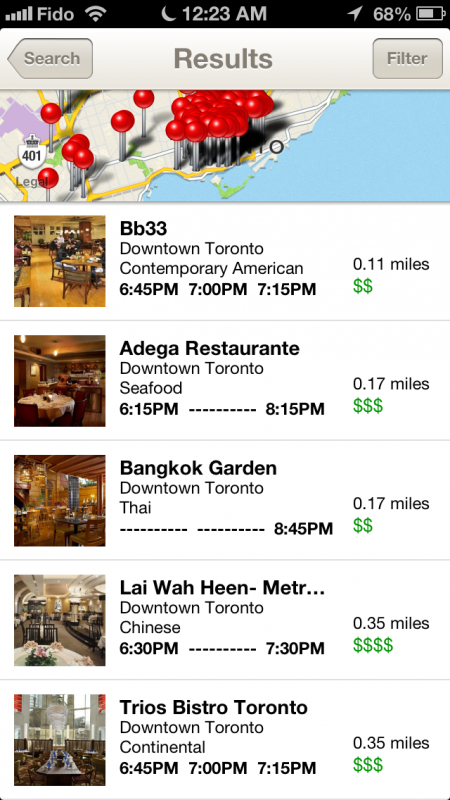 One thing to note is if you have your heart set on a restaurant, but OpenTable doesn't show any availability, that's the time to find your inner-extrovert and actually call the restaurant. Sometimes they will hold back tables that can't be reserved through OpenTable.
Download for iPhone here.
Über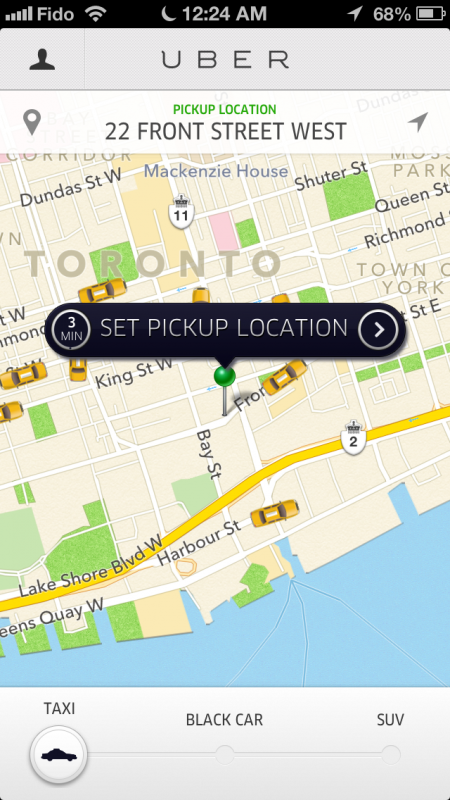 You've probably heard about Über in the news. Traditional taxi dispatch companies are not that happy about it, because it's taking away a lot of their business. It's currently available in about 30 cities around the world, and they are constantly adding more. (There are competing services such as Hailo and GetTaxi, but I am most familiar with Über).
In a nutshell, you set up an account online or on the app, and enter your credit card information. Then, when you need a taxi, you open up the app, and hit the button to hail a cab. The GPS in your phone alerts the driver where you are, and you can even track his or her car coming to get you on a map. When you get to your destination, you jump out of the car and that's it. Über bills your credit car, and arranges for the driver to get their cut. No need to fumble with old fashioned cash.
Über offers different levels of service depending on the city. Here in Toronto, you can choose between a normal taxi, a black Town Car, or an SUV (each with their own pricing scheme). For the taxi system, these are the same licensed taxis that you would hail on the street. Because pricing is regulated for taxis, they cannot charge more than what it says on the meter, although they do also add a 20% service charge meant to cover the gratuities. I'm not sure how much of that actually goes to the driver, but since I would probably tip around that much anyway, it's a zero-sum game for me (except that now I get credit card points for the taxi ride!). And the drivers are happy since they are getting fares that they normally wouldn't get. (All of the drivers that I've talked to have been quite happy since signing up with Über).
We used it last week in LA to take us from West Hollywood back to our hotel in Santa Monica. In LA they don't have the normal taxi service, just black car and SUV. We ordered a black car, and it showed up where we were standing within a couple of minutes. We probably paid about $10 more than a taxi would have been, but it was worth it for the convenience and comfort.
If you do decide to sign up, if you use this link we will both benefit: www.uber.com/invite/uberbradintoronto.. After your first trip with Über you will get a $10 credit, as will I.
After creating an account with the link above, download for iPhone here.
ITA On The Fly
This app is more for when you are planning travel than when you are actually travelling. Normal travel websites and apps allow you to enter a set of dates and destinations, and it will pull up the cheapest fares for that period. But On The Fly allows you to set a range of dates, as well as a multitude of parameters (such as leaving after 4pm, or away for a certain number of days), and it will find the best deals. For example, say I wanted to find the cheapest fare from Toronto to Tokyo, leaving between April 28 and June 1, and staying either 5 or 6 nights. On The Fly brings this up: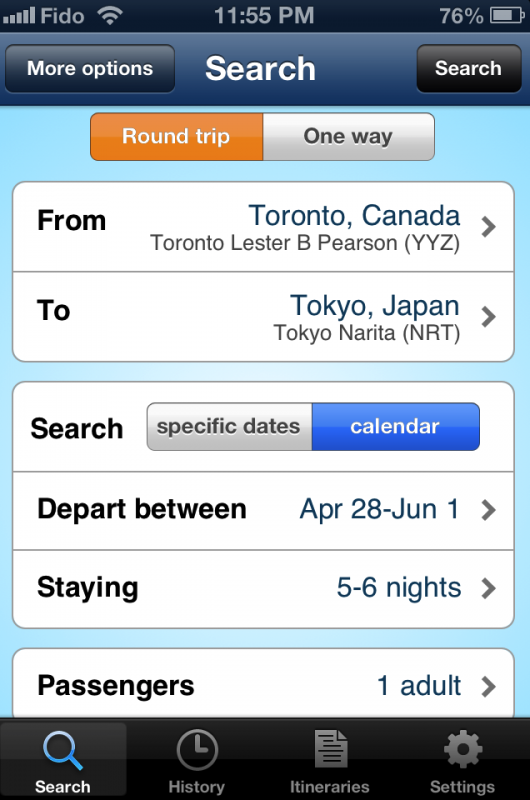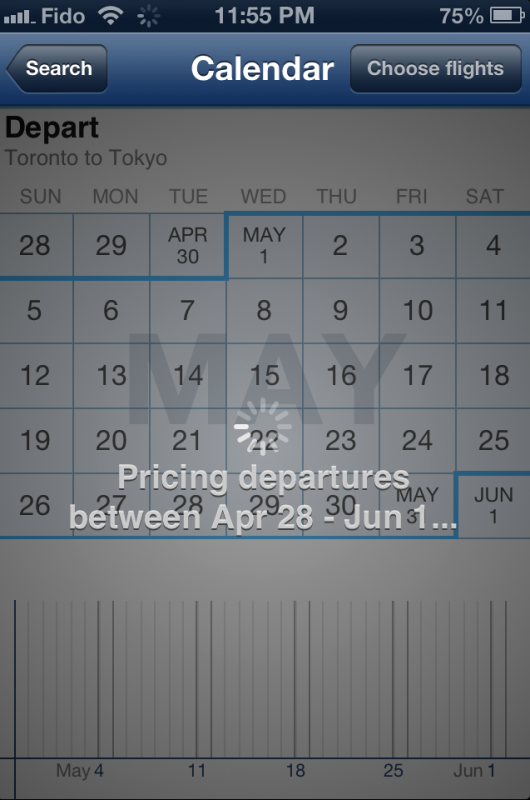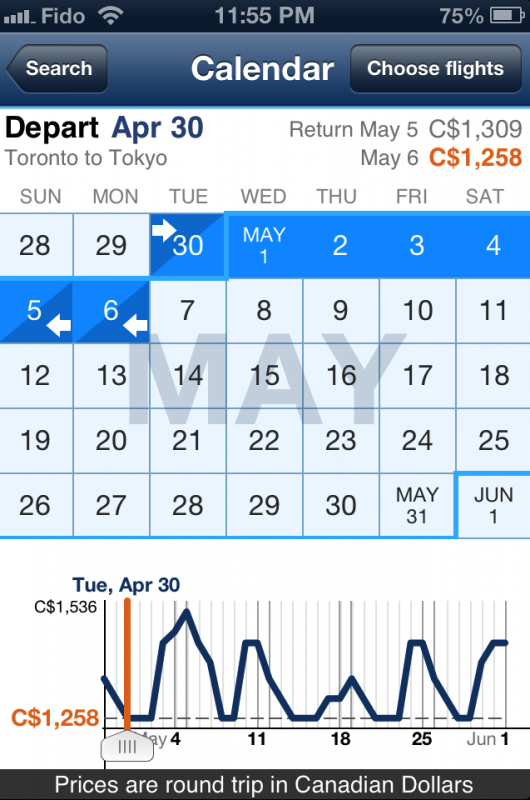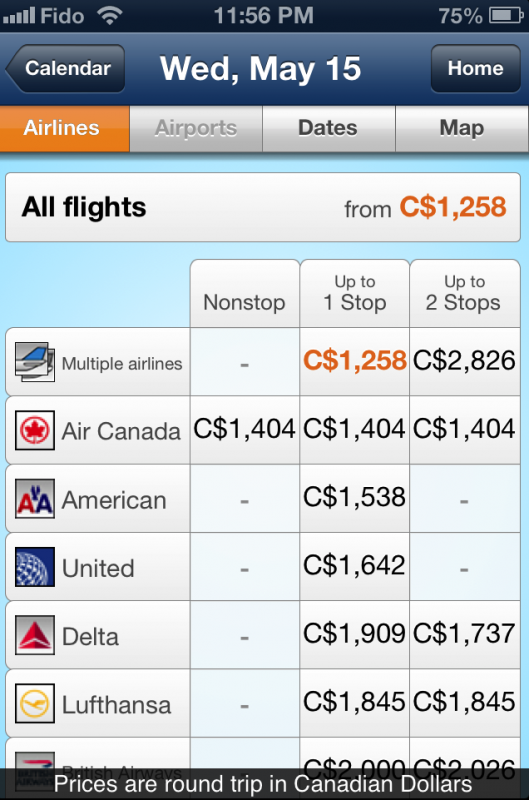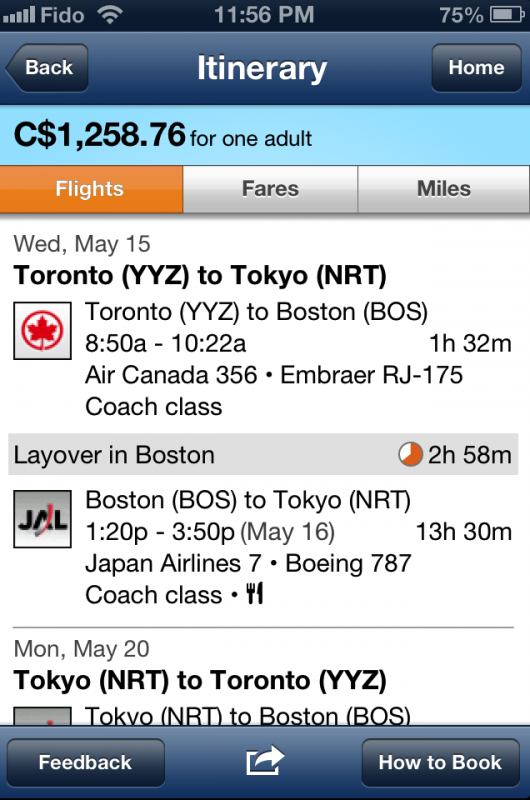 You can't actually book through On The Fly, but it does direct you to the best deals. Plus you can save your search, and check as many times as your OCD-self desires.
Download for iPhone here.
Friend Trend For Twitter
OK, I'm a bit biased about this app, since I wrote it!!! And while it hasn't quite given me the same kind of riches as had programmed Angry Birds, I'm still kind of proud of it.
I consider Friend Trend a quick way to see what's going on with my friends on Twitter. I follow a lot of people, and I just don't time anymore to read everyone's tweets. I want to know quickly what people are talking about, and view the tweets on that topic. This is especially important when travelling when I don't have as much time to spend on Twitter.
When you open Friend Trend, it pulls in your friends' tweets, and then finds the words, phrases and hashtags that they have mentioned the most. It will then rank them, and allow you to see the tweets for that word/phase/hashtag. All of the normal twitter functionality such as reply and retweeting is of course also available.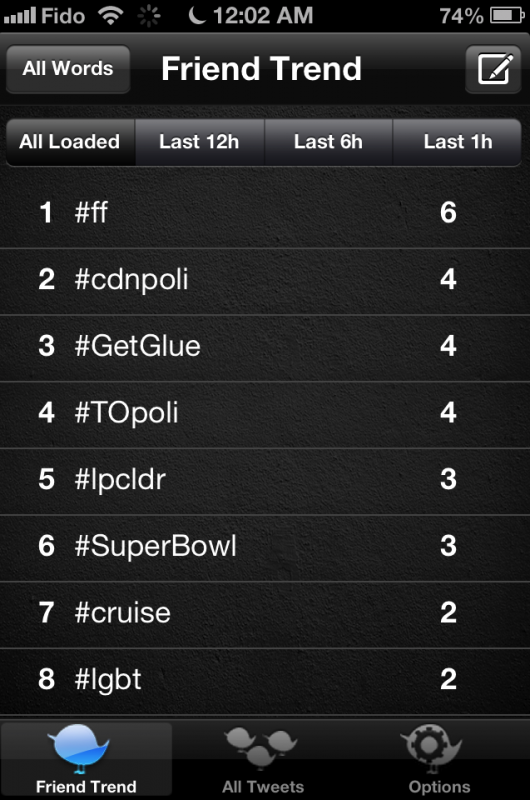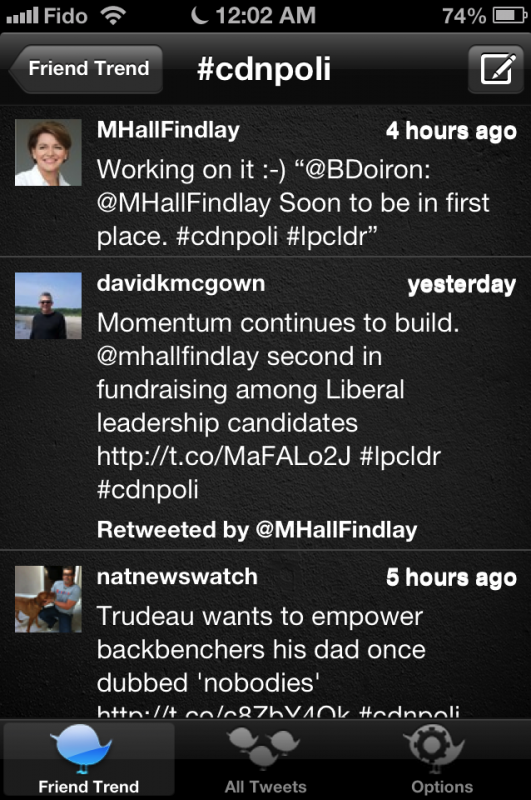 And the best thing is that you can get it for FREE! (Well, maybe that's not the best for ME!). There are two versions. The Free version contains ads, but for a $1.99 in app purchase you can remove the ads. You can also download Friend Trend Pro for $1.99 that also is ad free.
Download for iPhone here (for the free version) and here (for the pro version)
Of course there are many MANY more apps that I use, but these are the ones that are dearest to my heart right now. If you have any suggestions of apps I should try, please let me know in the comments!