Today we embark on a 10 day trip to Japan. What prompted this trip was an opportunity to fly home using points in the fabulous Etihad Apartments. More about that later. So building around this flight we decided to travel to parts of Japan we have yet to explore: Sapporo and Nagoya.
We are flying United to Newark (EWR) from Toronto this morning. Making a connection to San Francisco (SFO) and then onto Haneda (HND). Thanks to our hard work last year we had upgrade certificates which allowed us to upgrade to Business Class. The fare we booked guaranteed us Business seat on the long SFO - HND flight but time will tell if we get upgraded from EWR to SFO. Currently there is one seat available and Brad is first on the list.
It has been a busy morning. We were originally connecting through EWR to get to SFO. The flight that was to take us to EWR was delayed and we wouldn't have made the connection. So we are now about to board an Air Canada flight that will still get us to San Francisco in ample time to make our flight. Thankfully we are flying carry on only, but unfortunately we are don't have much room to buy stuff in Japan. We may have to buy another bag.
August 25, 2016 11:45 EST
We made it to San Francisco on the direct flight from Toronto. We actually arrived around the same time as if we had gone our original routing. We were delayed getting out of Toronto. I had to listen to the old fart next to me looking out of the window and swearing while waiting for the mechanical issues to be cleared up. Just so you all know, middle seat gets priority of the arm rests, the window seat gets the space by the window and the aisle gets the aisle. We were in the exit row and I was in the middle seat. We are now in the lounge enjoying cheese cubes and all the diet coke we can drink.
August 25, 2016 19:39 EST
Currently sitting on United 875 in business class on a 787. Thanks upgrade certificates! We just had our warm nuts and a cocktail. Waiting for dinner (shirt rib) while watching Money Monster.
When I'm in business class I'm always sad the flight has to come to an end. Plus, being on the Dreamliner is even more fun. This flight is 9:45, not long enough in my opinion. I was impressed that the one window button shade all three of the windows. It is the small things that amuse me the most.
August 26, 2016 00:10 EST
We have arrived in Tokyo safe and sound. An easy flight with a great crew. We are now on the subway heading to our hotel using the wifi on the subway. Welcome to the future (if you live in Toronto).
We are staying at the Prince Shinagawa hotel for th night then heading to the Shinkansen tomorrow to head to Nagoya.
August 26, 2016 10:01 EST
We had an always wonderous trip on the Shinkansen this morning to Nagoya, the third biggest city in Japan. We are staying at the Marriott with amazing views of the city. Now off to explore... and maybe catch some Pokemon.
August 26, 2016 22:47 EST
You know you are in Japan when a lady leaves the elevator and politely presses the "door close" button as she exits to speed up your ride.
August 27, 2016 12:28 EST
We had a great day in Nagoya today. We first enjoyed our included breakfast... okay it wasn't that great but it was free. It was also the first time I have seen sweet bagels: chocolate and peach/honey bagels. Will this be the new trend? (And yes I know there are apple/cinnamon and blueberry already)
We then headed to the Toyota Commemorative Museum of Industry and Technology. Did you know they started as a textile factory? So the first pavilion was various looms and cotton history. It would have been boring but they demo'd various looms as you walked around. It was actually fascinating.
The second pavilion was dedicated to the auto industry that took shape after the massive Tokyo earthquake.
I learned so much about cars, I actually understand how things like a clutch and transmission work. They had working examples so you could see inside how each mechanism worked. Again, this part was made so much more interesting due to the working demos. I'll put some images and videos in the Flickr album at the bottom.
After a lengthy nap we went out for Japanese fried chicken. Now it is time for sleep.
August 27, 2016 13:04 EST
Science centres are always fun. Except when it is all in Japanese and we didn't see until too late that we could have gotten English Audio guide.
They had some neat exhibits. Some of which I could have spent too much time playing with. We were warned not to do the show in the Planetarium because it is only in Japanese. Plus the line was way shorter to buy tickets if you weren't going to the show.
August 27, 2016 23:07 EST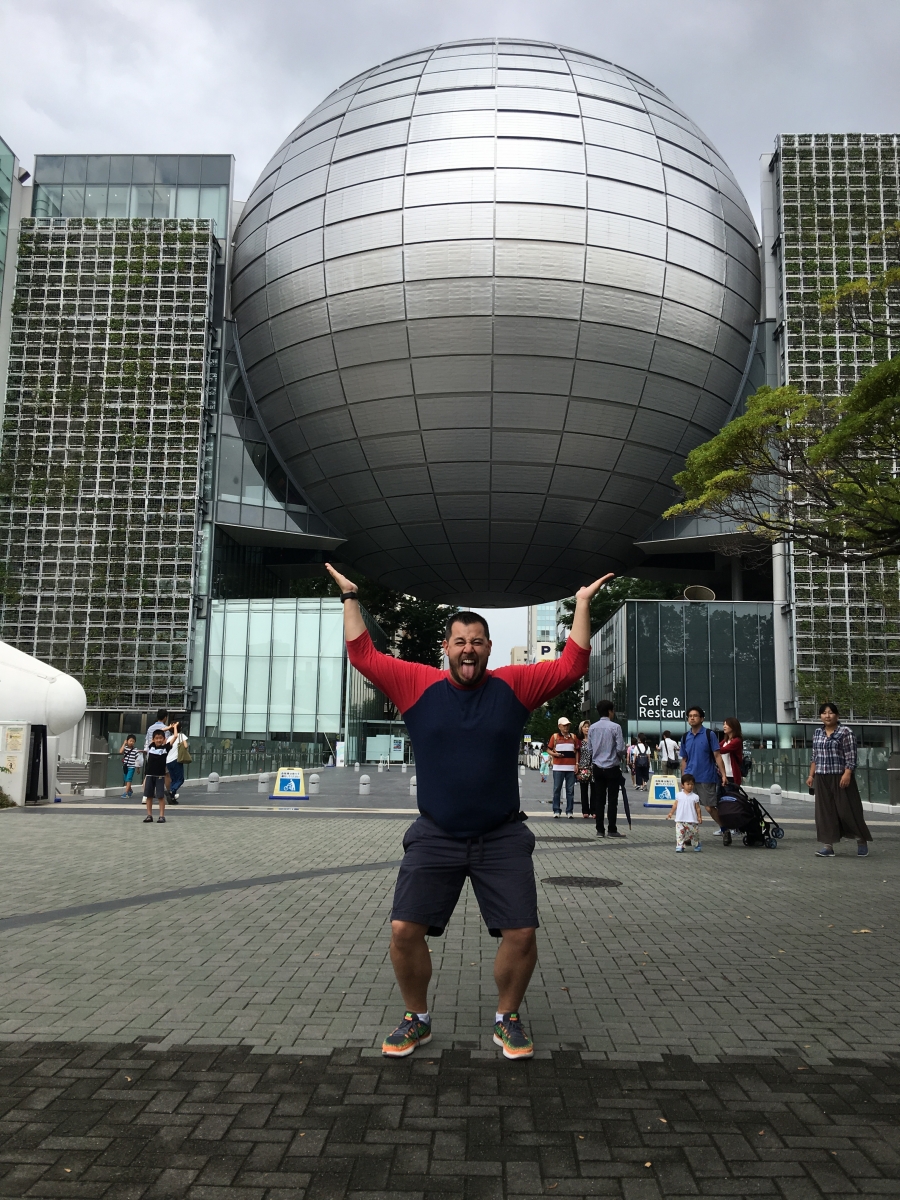 We had the most delicious tempura dinner last night on one of the food floors. It was a set meal so it had soup, some octopus, sashimi and rice. We had shrimp tempura and then near the end they gave us vegetable tempura. It was all delicious.
They even provided us with the English instructions on how to eat tempura. So you put the radish into the tempura sauce. You pick your salt from a selection of 4 and put some on a plate. You take your tempura and dip it in the radish/sauce and then tap it into the salt.
I didn't even know this but now I do.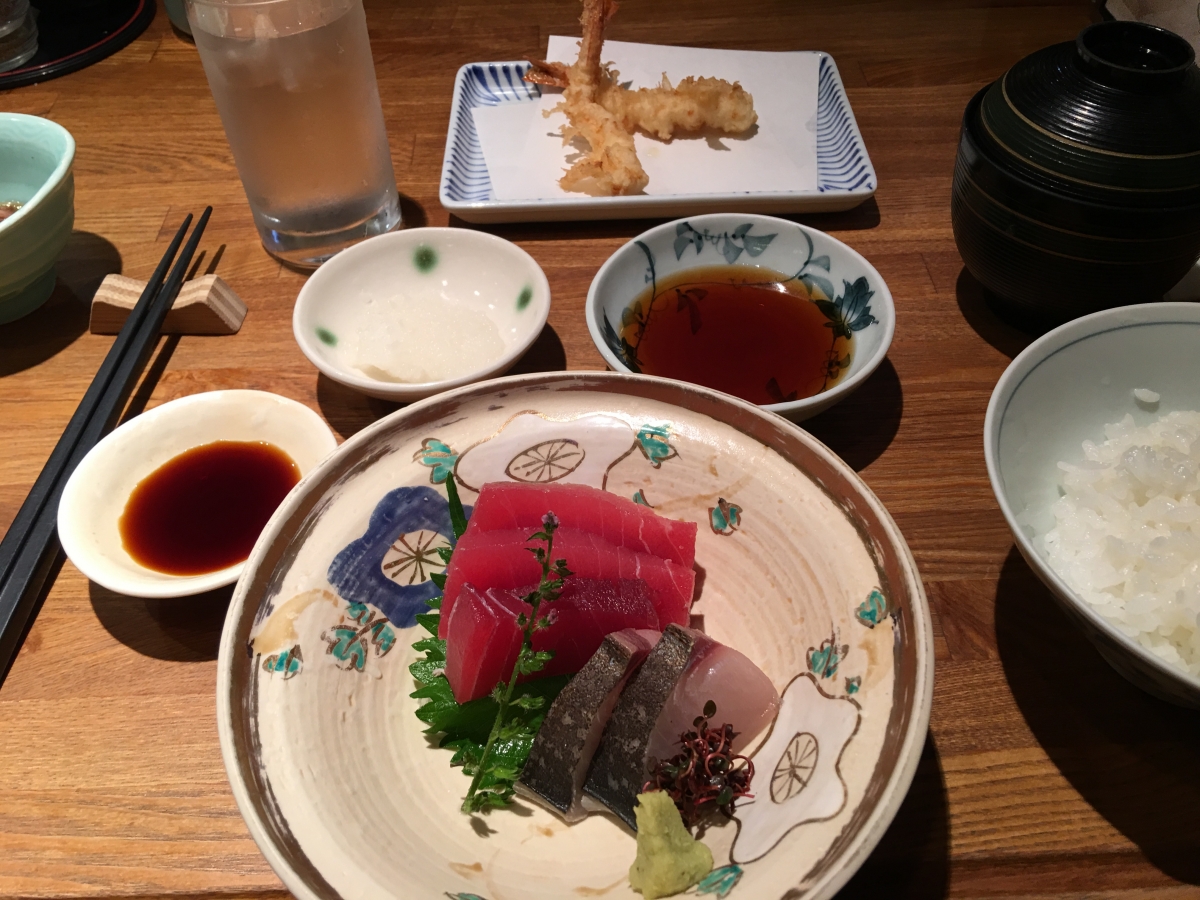 Coming soon!
August 29, 2016 22:19 EST
After we found out a Typhoon was coming over Japan we were a little worried we may have flight issues. But we have landed safe and sound in Sapporo on the island of Hoakkaido. A few planes actually left and came back to Nagoya because the destination airports were closed.
I got to have my first kiwi juice. Yum. Sugar.
August 29, 2016 22:22 EST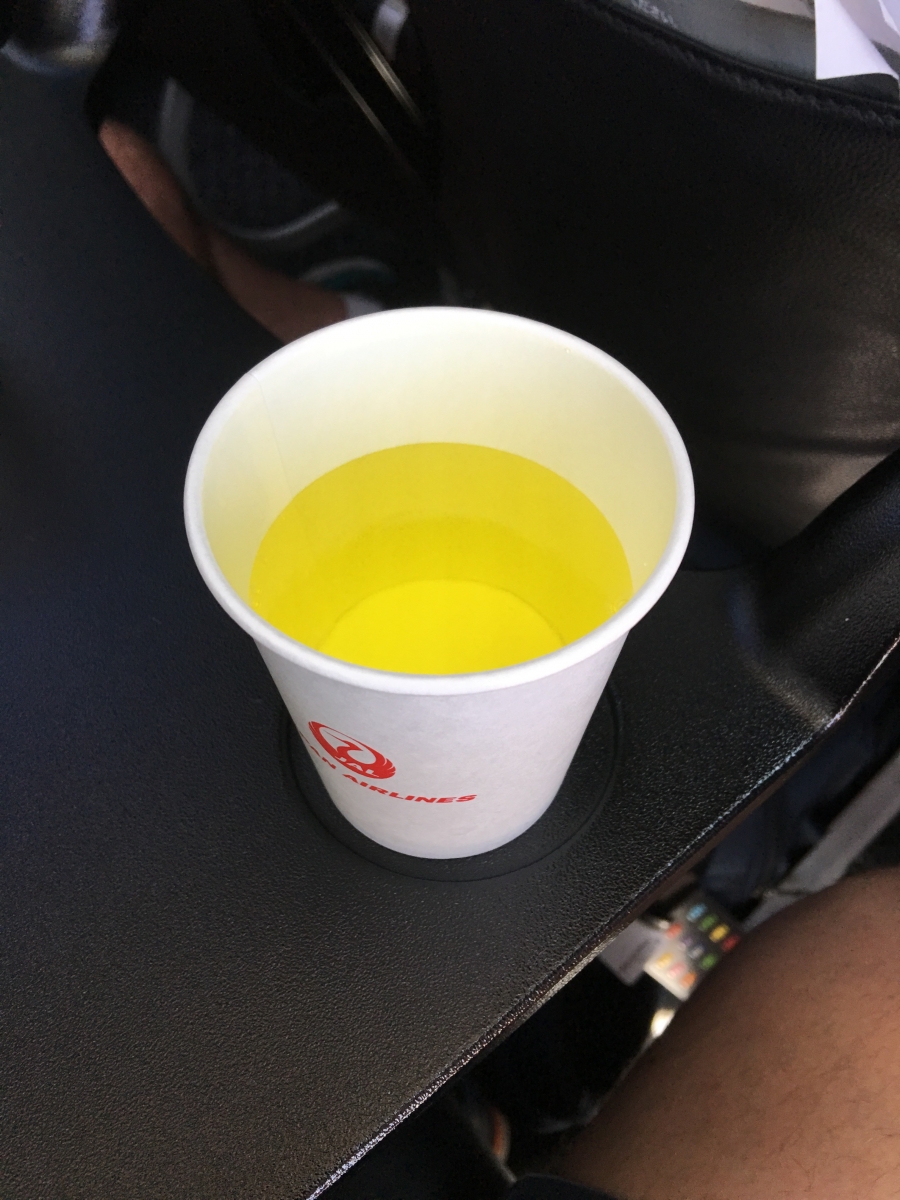 As you leave the airport baggage area, they have bins so you can recycle your bag tags and plastic bottles.
Yesterday we walked in the moist heat to the Sapporo Beer Museum. We were starving so we went to a BBQ self cook restaurant in the museum.
We walked in and you are hit with the smell of BBQ, it may bother some but I didn't mind it. Each table has a hot pot where you cook your lamb (which is all you can eat) and vegetables.
Because of the splashing from the cooking they give you a bag to put your belongings in and also a bib.
The meat was really good, 8 don't think it was the best quality but delicious nonetheless.
Brad had a Melon beer and I had a Ribbon Napolin. It is a soft drink that you can only get in Hokkaido (the island Sapporo is on). It was a melon type soda... we think.
August 30, 2016 20:08 EST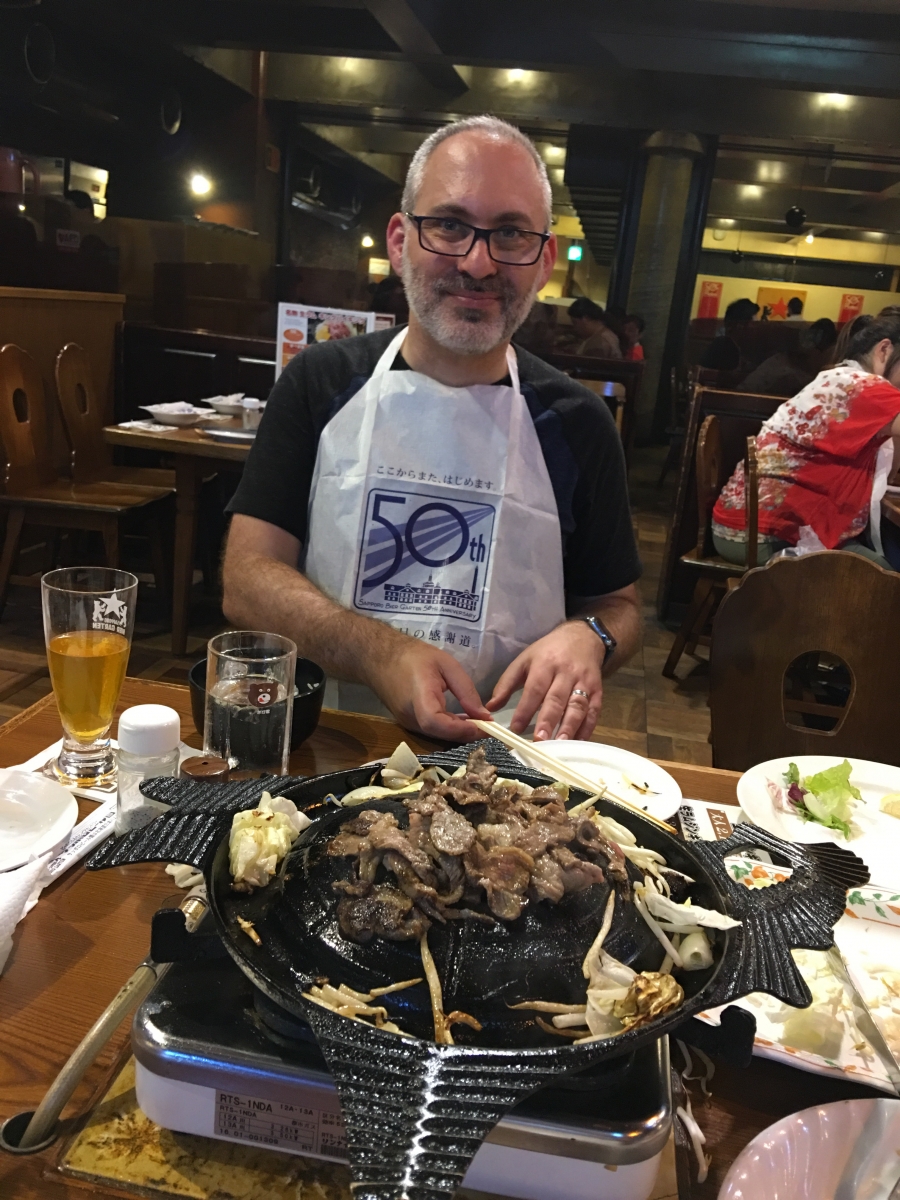 We visited the Sapporo Beer Museum after our very sweaty lunch. The basic museum is free and tells the story of how Sapporo Beer started. The original creator of the brand actually trained in Germany. The museum was informative and got to the point. They also had some awesome ads from years past. The building itself is an old brick building and is actually quite beautiful. I'm not sure if it was built for the museum or if it was one of the original buildings.
September 1, 2016 09:10 EST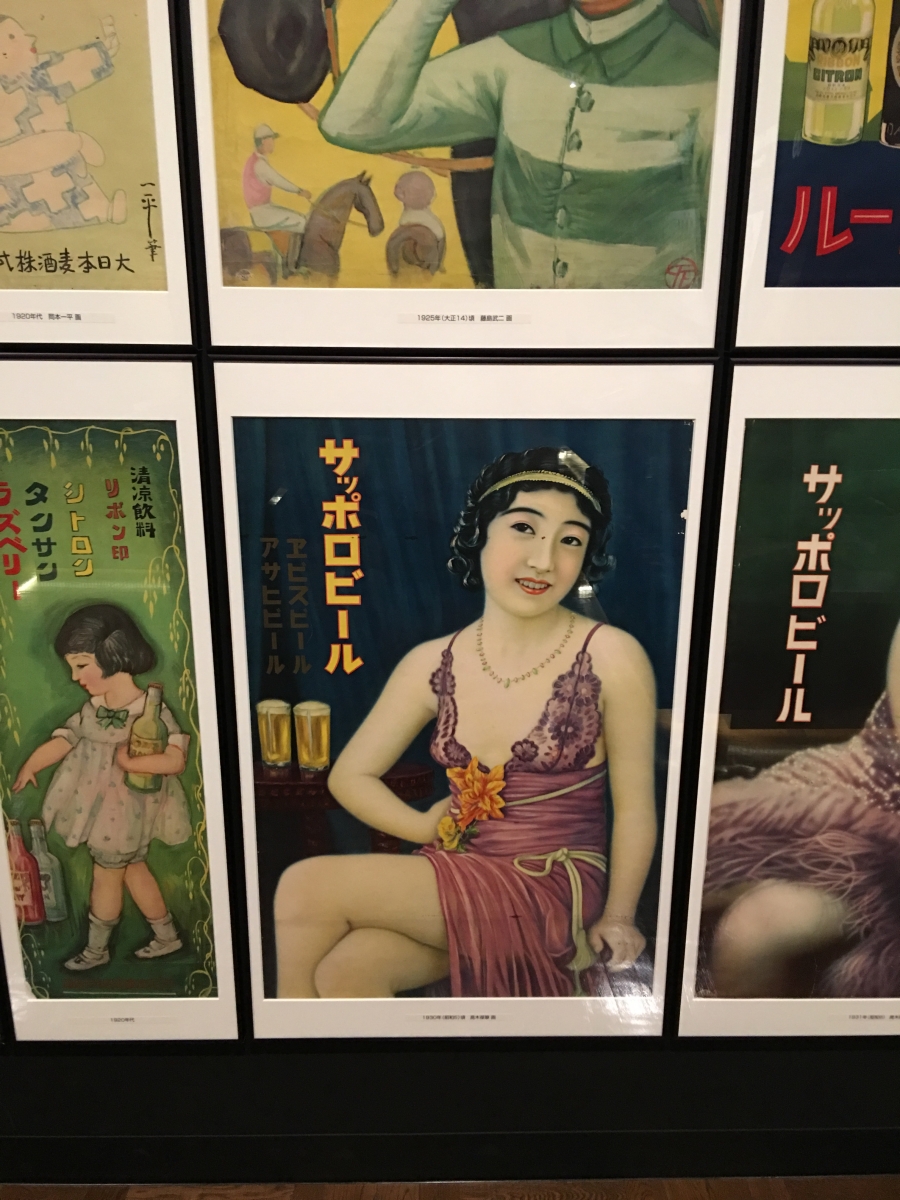 Wednesday in Sapporo wasn't great weather wise. We attempted to go to the ski jump but as we got off the train we saw the hill was covered in low clouds. We opted to walk towards the city centre and take in the city by foot. We walked up to Park and then made our way to the Sapporo TV tower. Thankfully the weather cooperated but was it windy! From the top of the TV tower I could feel the gentle sway from the wind. Even though it was cloudy earlier, the view was great.
After a freshen up we explored some more. We learned that almost the entire walk we did was all underground mall. It was mall as far as the eye can see. If you didn't want to take the train you could actually walk about 4 train stations and everything was connected. Pretty awesome considering they get lots of snow in the winter.
September 1, 2016 09:19 EST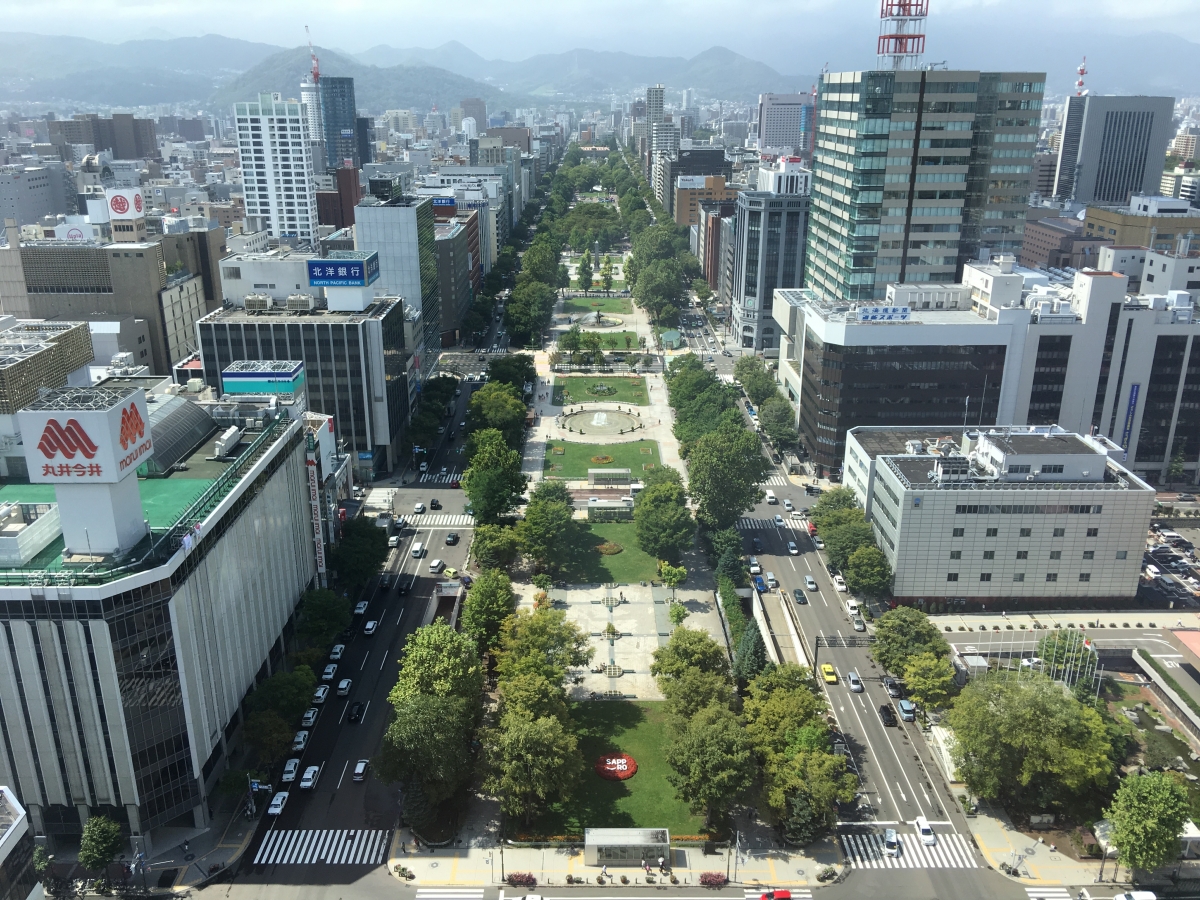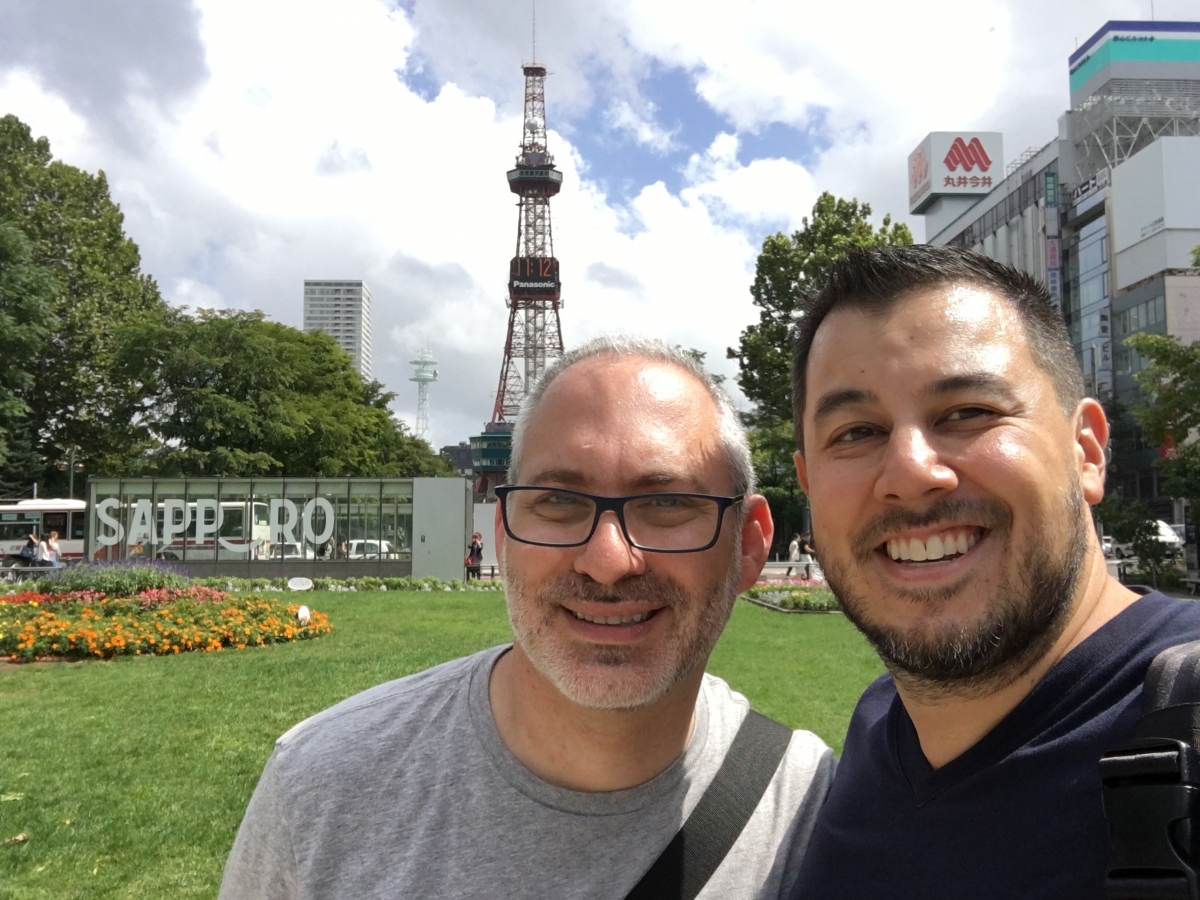 Our destination for dinner was Ramen ally. A small little street lined with ramen restaurants that may hold no more than 15 people each. You sit at a bar and slurp up delicious Ramen. I had basic miso ramen, miso is the norm in Hokkaido and also happens to be my broth of choice. Brad had a ramen that had corn and a slab of butter that slowly melted into the broth
September 1, 2016 09:21 EST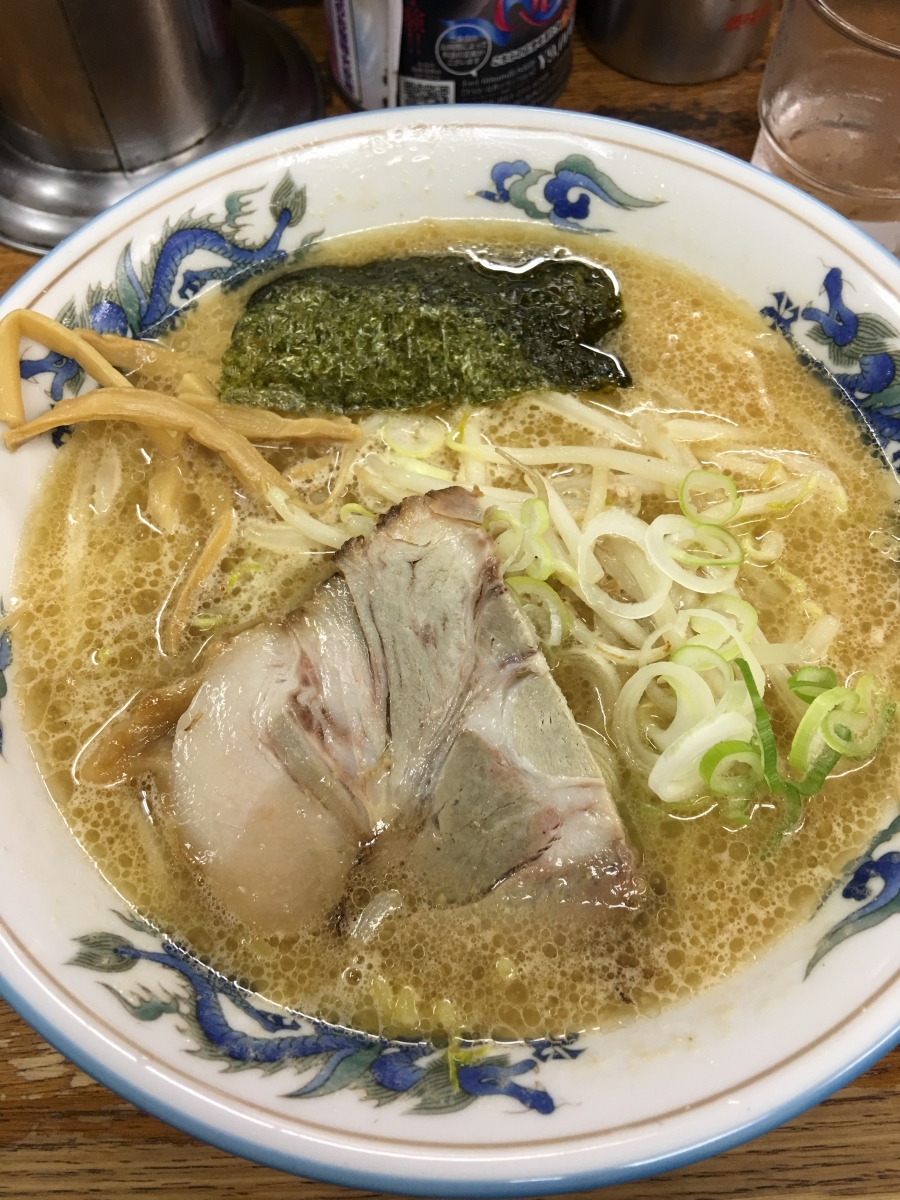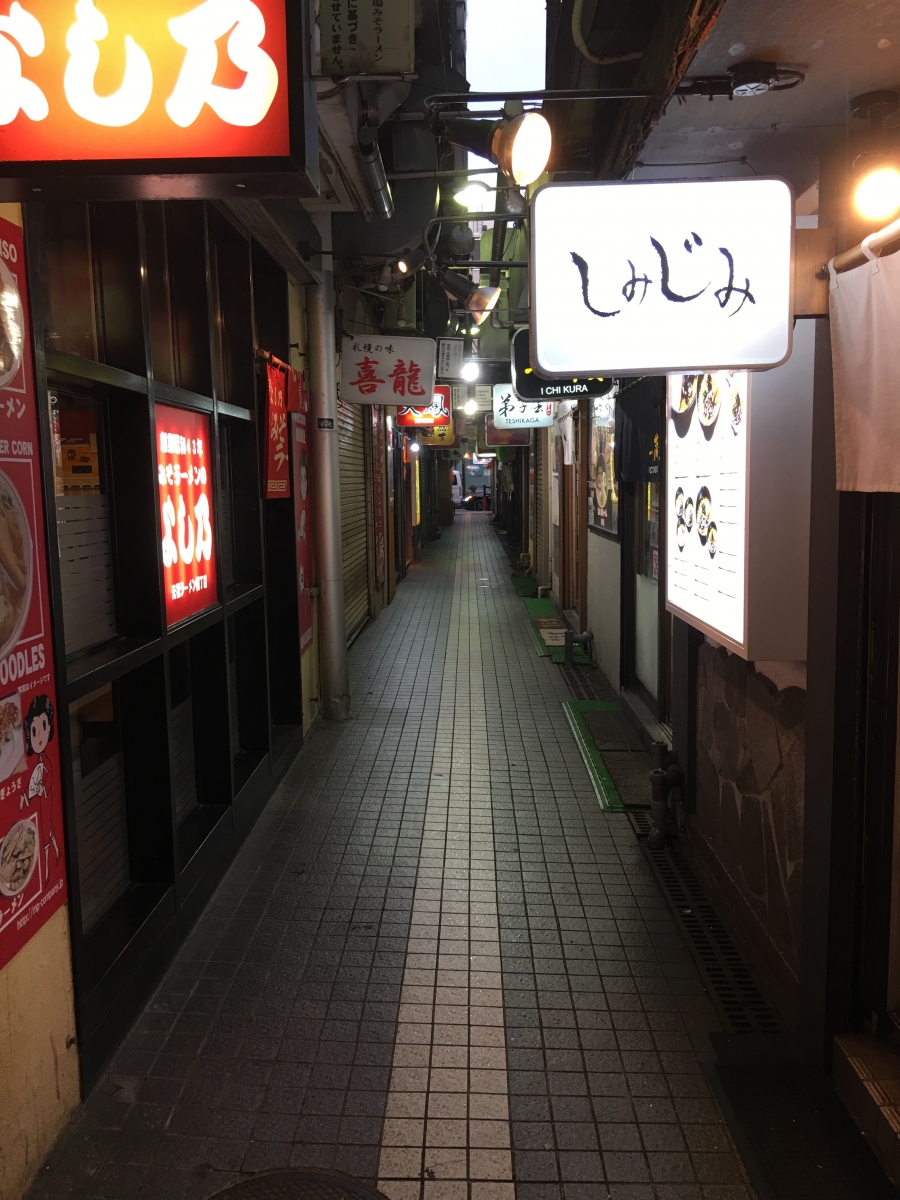 The weather today was fantastic. Lightly breezy with warm sun. We attempted the ski jump visit and we made it. The view from the top was amazing, the ski jump itself is pretty spectacular. It was built for the 1972 Olympics.
We visited the museum which was pretty interactive including a virtual ski jump, a bobsled that was could get leaning correctly and a skinny thing to simulate figure skating that made me extremely dizzy.
September 1, 2016 09:22 EST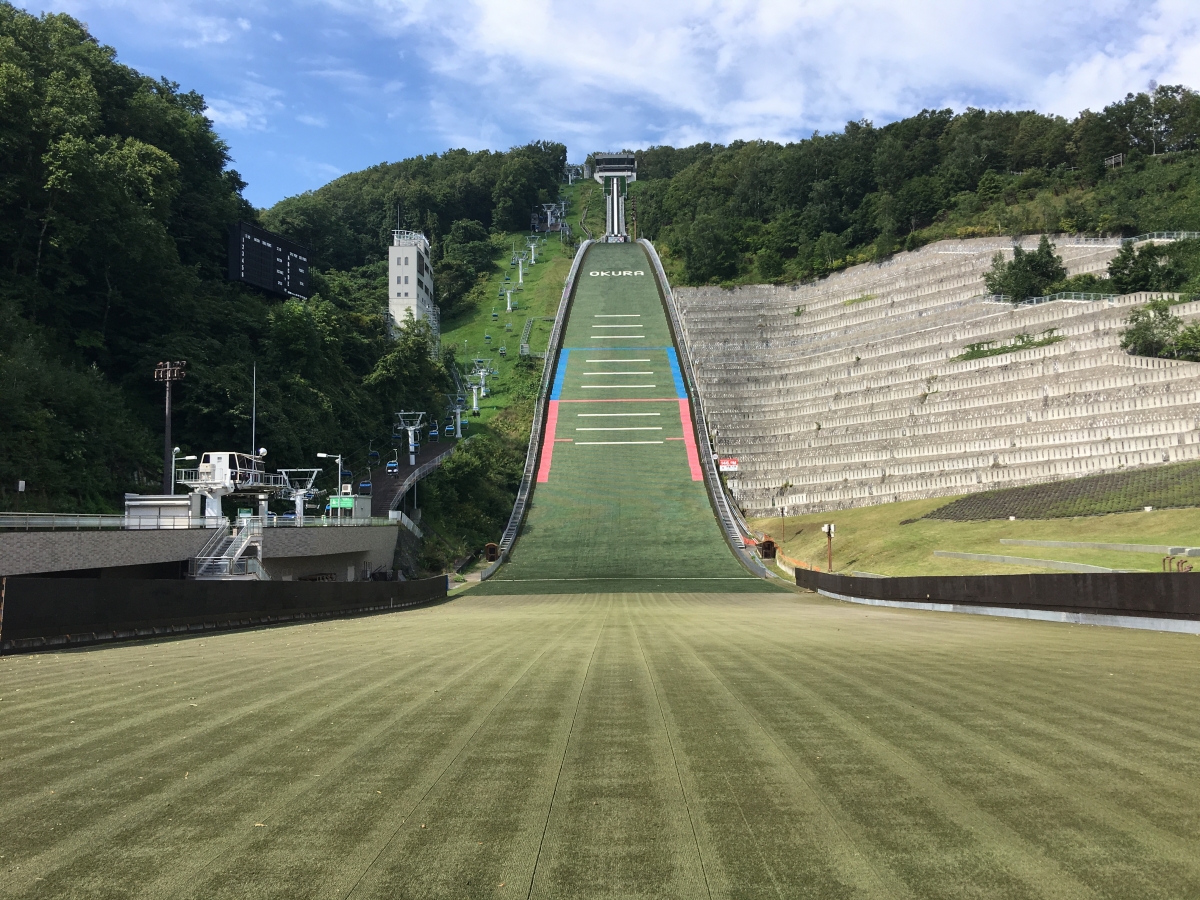 Tonight we start our flight home. Our first leg is Sapporo to Tokyo Haneda. Tomorrow the next part of our journey starts... even though it brings us back to Toronto it will be an exciting adventure.
Japan is always amazing. The people, the culture, and this trip didn't disappoint. I got to eat all my favourite foods and see and explore new places that we have never been. I would like to go to Sapporo in the winter to experience the winter festivals and also the hot springs. We didn't get to experience Tokyo this trip, but we'll be back. Next month
September 1, 2016 09:23 EST
Photos
---
This article is in the category: Travel.
---
---