I recently took a week-long holiday to New York City for a brief getaway, visits with friends and a great night of entertainment at the annual Broadway Bares fundraiser. The overall itinerary was a leisurely 7 night stay with very little planned in advance, which is how I like to roll into a relaxed holiday.

When I arrived and connected with my friends living in the city, they made plans for us to eat, drink and hang out at some of their fave local spots. And as anyone who knows NYC knows, locals are passionate about finding great hidden gems and enjoying them until everyone else finds out about them. Here are some of those, revealed exclusively for you on guyswhotravel.com

Where to eat: West Village
Two great meals in the West Village, one at Market Table (54 Carmine) and the other at Perla (24 Minetta Ln), both excellent kitchens with packed houses on a Wednesday and Saturday respectively. Market Table was a recommend from a fundraiser-turned-freelance-chef friend and Perla was the fortunate reservation made by a foodie friend who delights in finding new gastro spots in the city.

Where to drink: Wine Bars & Speakeasy
A great little wine bar, also in the West Village, is Lelabar (422 Hudson) and that's where we stopped in for a quick drink before heading to Market Table for food. The wine list was interesting and for a beer drinker who typically doesn't stray from his Heineken and Stella, there is a fantastic selection of local/craft beers to choose from and a knowledgeable bar staff to help guide you.
The other must-do cocktail spot is undoubtedly Little Branch, a speakeasy at 7th & LeRoy that two different sets of friends took me to as a "we gotta go here" insider secret. Opening at 7pm, Little Branch is an unmarked cinderblock building on an unassuming corner of 7th Ave, where the door opens and you descend a dark staircase into an underground cocktail club. From the hand carved ice block ice cubes to the housemade syrups and garnishes, Little Branch is a true mixology experience. I was there once at opening and once at 1am and the crowd is always fun, although not as charming as the fellas behind the bar. Complete with suspenders and handlebar moustaches, these barmen were exactly what I'd hoped for when I was told about the place.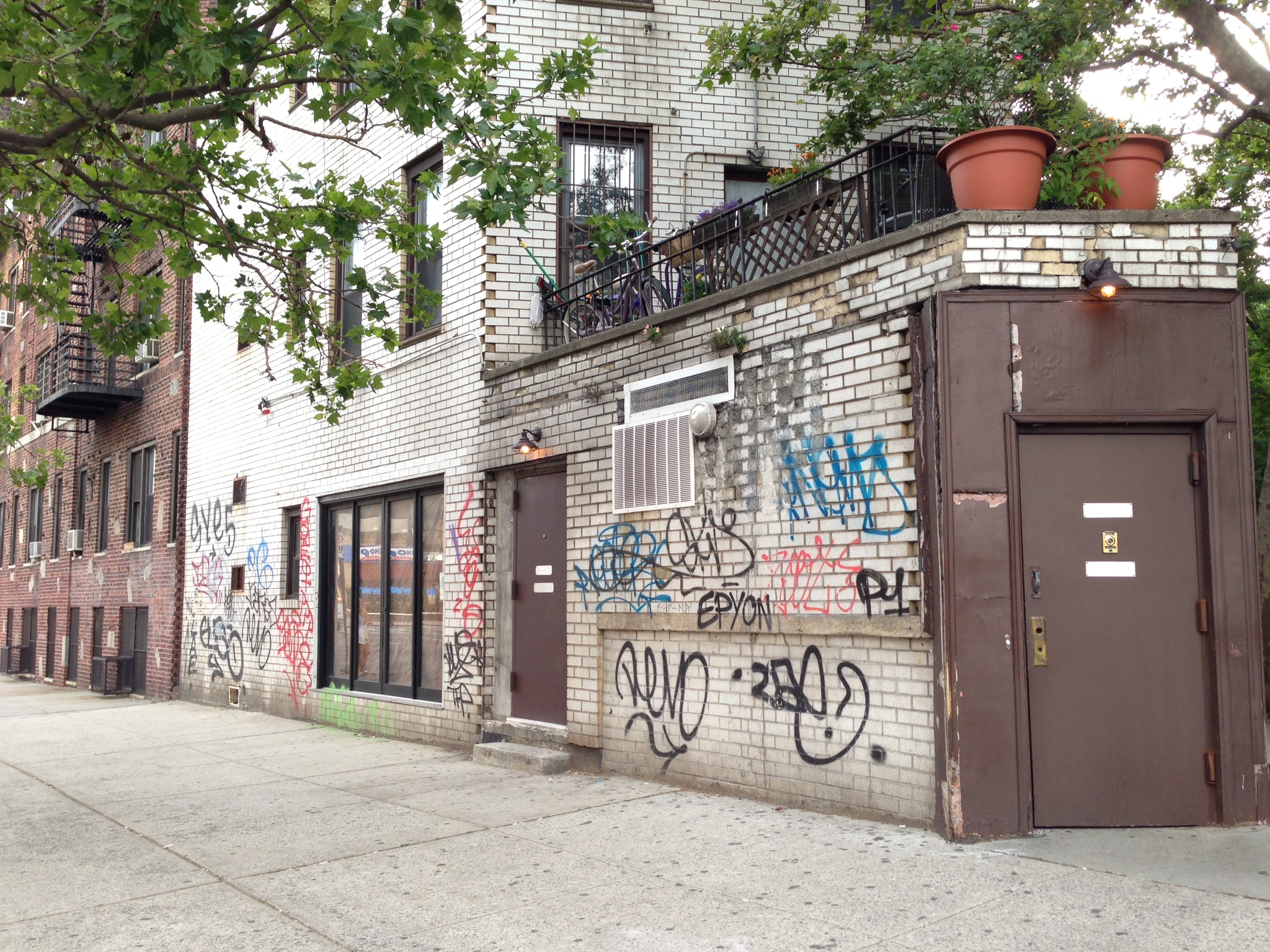 Where to hang out: DUMBO
The last local discovery isn't a specific restaurant or bar, but rather a cool little neighbourhood I've never heard of let alone been to. Referred to by its very specific acronym, DUMBO is a little neighbourhood in Brooklyn located Directly Under Manhattan & Brooklyn Overpass. A friend who grew up in Manhattan but moved away for a decade because she disliked the city ended up coming back for career reasons and she has found a new love of NYC in this hood. Literally underneath both iconic bridges, DUMBO is a hip area without the Williamsburg hipster feel, and many gorgeous views of Manhattan's skyline to remind you that you're in one of the best cities in the world. Just 1 subway stop off out of Manhattan, DUMBO has bars, restaurants, cafés, parks and markets that make it worth many visits if ever in the city. My personal recommendation is to find a seat at one of the many great Brooklyn pizza joints and dig into a classic NYC delicacy.