Let the trip begin! Steven and I are heading to Singapore to take a 2-week cruise on the Celebrity Millennium. This is a quick report on our journey there.

We got our flights for this trip by redeeming American Airlines miles. For 220,000 miles, we got two business class tickets on Cathay Pacific. Outbound we fly from Toronto to Hong Kong, and then after a brief layover from Hong Kong to Singapore. Since the cruise ends in Hong Kong, for the return we just needed one flight from Hong Kong to Toronto to get home. (In retrospect, I regret not taking my own advice to try to tack on another free leg to this award ticket. See this article I wrote a while back describing how I managed to do that for an award I helped Zak book).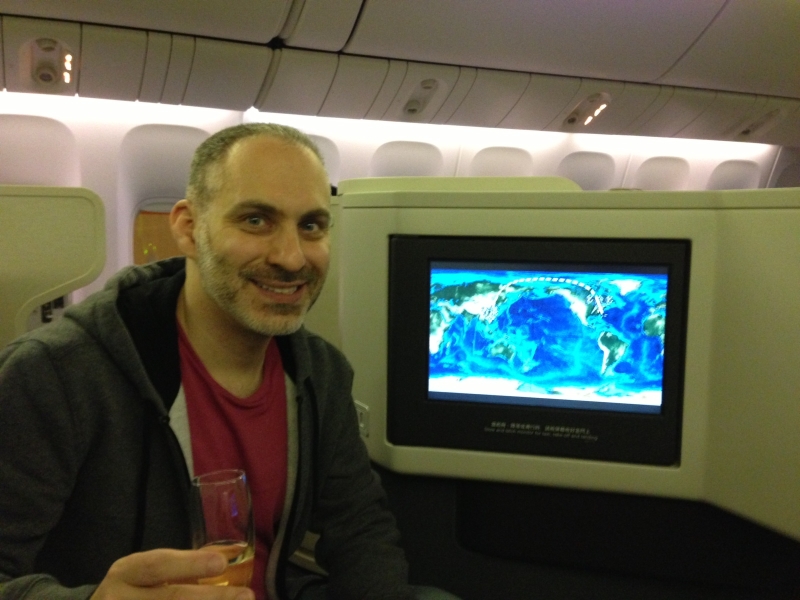 Boarding the plane in Toronto was a total shit-show. A billion people (give or take) crowded around the gate, with no separate line for business class or elite passengers. A guy in front of me was chewing out a gate agent for the fact that he paid a lot for his business class ticket and everywhere else in the world he wouldn't have to queue with the masses. He said "you are obviously contracted out, since Cathay employees would never treat business class passengers like this". I felt sorry for the agent -- she didn't design the gate area -- but she handled it quite calmly and professionally, although she did make clear that she WAS a Cathay employee and was quite proud to work for the company. And I must add that even with the seeming lack of organization, they managed to board the plane FAST, so they obviously knew what they were doing.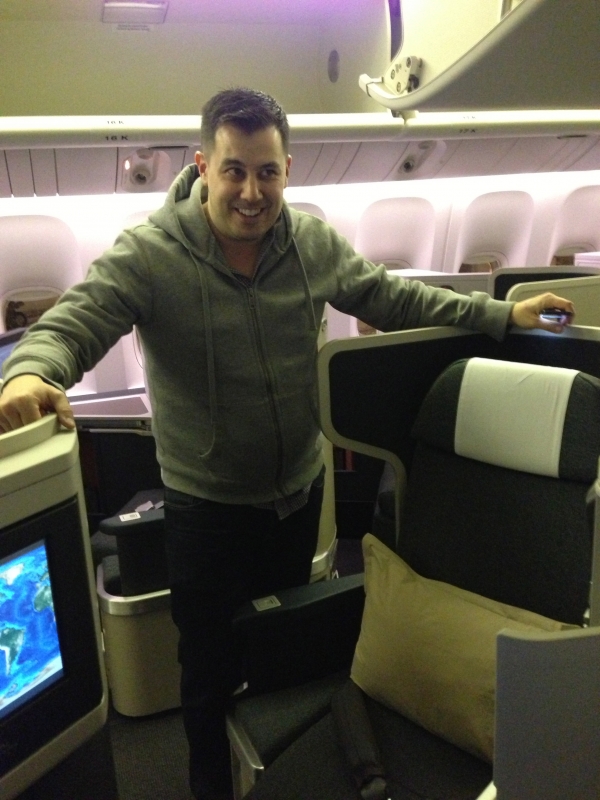 The flight from Toronto to Hong Kong was on a 777, configured in Cathay's "new" long-haul business class product. It's not really that new anymore, but is certainly a better product than when we flew them a few years ago. Another nice thing is that Cathay now flies direct from Toronto to Hong Kong. When we flew a few years ago, we had to stop and refuel in Anchorage.
The cabin is configured with 4 seats across. Steven and I chose the two middle seats to make it easier to talk to each other during the flight. The middle seats are set up such that if you are laying back in your chair, you can have relative privacy. But when leaned forward, you could converse with the person beside you. It was actually a bit surprising though that there was no way to raise a divider between the two seats for 100% privacy. (This is in contrast to when we flew on American First Class from NYC to London a couple of years ago with a similar configuration, where there was an optional partition that came up to separate the seats).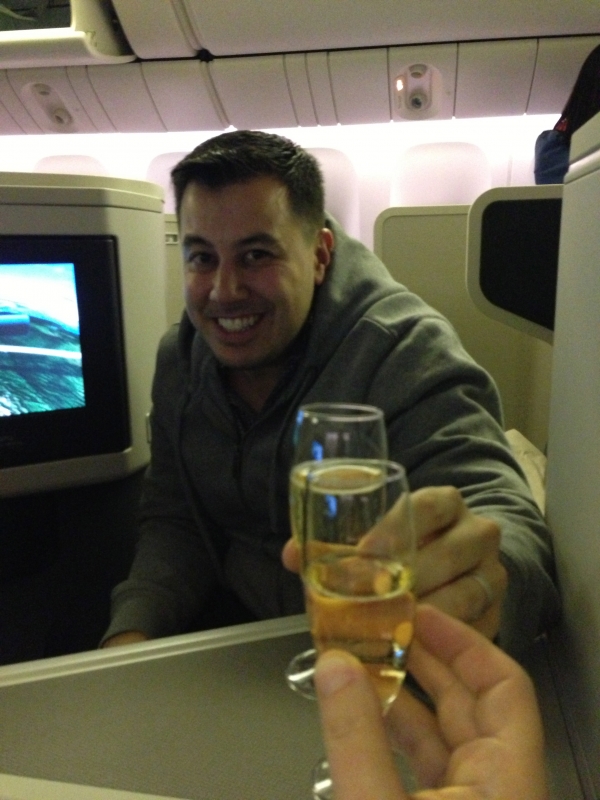 Before take-off both a flight attendant and the head purser approached each person in the Business class cabin to introduce themselves, and said to let them know if there was anything they could do to make the flight more enjoyable. I know it's part of the "production", but it is a nice personal touch.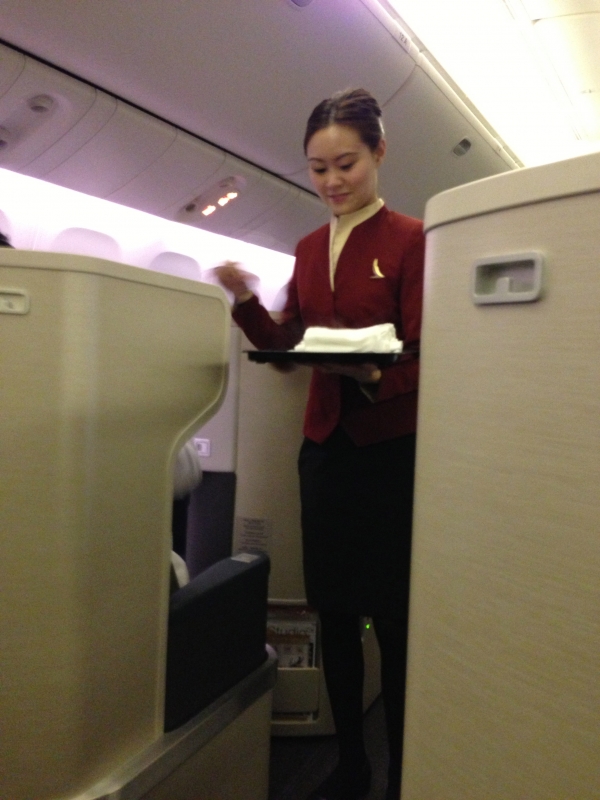 While still on the ground we enjoyed a nice hot towel (airlines love their hot towels), and some pre-takeoff champagne. A toast to start off the trip!
There was a bit of a delay taking off because of the weather in Toronto. It was a snowy slushy night, so we had to go get deiced, and wait for the runway to be cleared. But eventually we were off.
The scheduled departure time for the flight is 1:25am, and it takes almost 16 hours to fly from Toronto to Hong Kong, so scheduling meal service is sort of tricky. Cathay serves a full dinner soon after take-off, and breakfast before landing, with snack service available on request at any time.
For dinner I started off with a cocktail (why not!) - a Cathay "signature drink" called the Pacific Sunrise. As they describe it in the menu "A refreshing combination of champagne and Drambuie with the zest of orange and lemon". It did not disappoint. But I decided to refrain from alcohol after that point since I wanted to stay awake as long as I could in order to try to adjust to the timezone in Singapore (which is 13-hour ahead of Toronto).
The first course consisted of a small salad topped with smoked salmon. I'm not really much of a smoked salmon fan, so I can't say it was really enjoyable. But I'm sure if I didn't have such an aversion to smoked salmon it would have gotten a better grade.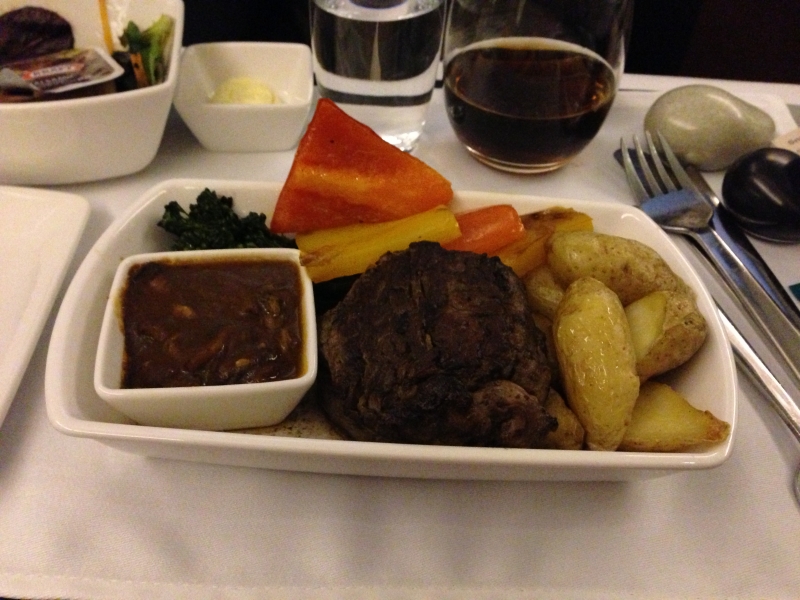 For the main course, there was a choice between beef and chicken. I know that the cardinal rule of airplane food is "do not get the beef", but alas I broke it. And regretted it. As with most beef on an airplane, it was well well well done. As in "not not not rare" vs. "done quite well". Although the mushroom sauce that accompanied it made it edible. Steven had the chicken and said that he enjoyed it. Dessert was a choice between a cheese plate, fresh fruit, and german chocolate cheese cake. I was good and went for the fresh fruit. Service then ended with a selection of pralines, which again I was good and did not have, but Steven enjoyed.
Then it was time to keep myself occupied and awake for at least a few hours. The plane had a very good entertainment system a large selection of movies and TV shows, and a much bigger/crisper screen than I'm used to on Air Canada. I spent the next 2+ hours watching Lincoln. (Probably not the best movie to try to stay awake to, since it is slow. Plus I know how it ends (bang!).) After Lincoln I watched a couple of episodes of Girls on my iPad, then couldn't keep awake any longer, so decided to try to get some sleep.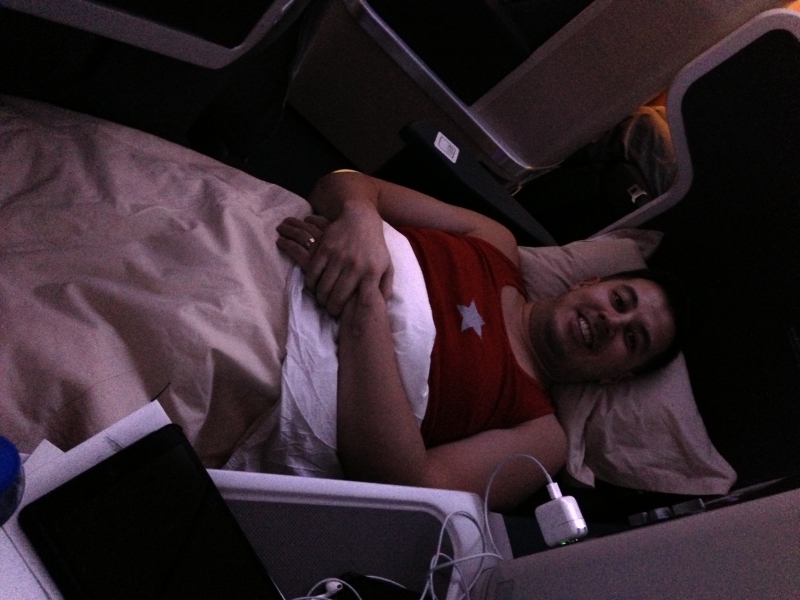 The seats on this plane recline to a fully-flat position. I found though that when it was totally flat it was a bit uncomfortable, so I kept the top of the seat tilted upwards slightly. Within no time I was out like a light and asleep for probably 4 or 5 hours. I watched a few more episodes of Girls, and then drifted back off to sleep.
When I got up again, it was time for breakfast. I'm relieved to say that I was MUCH happier with my breakfast choices than with that I went with for dinner. Breakfast started with some strawberry yogurt, and a "Strawberry, kiwi and banana energizer" drink. For the main there was a choice of a ham and cheese frittata, dim sum with sticky rice, or seafood congee.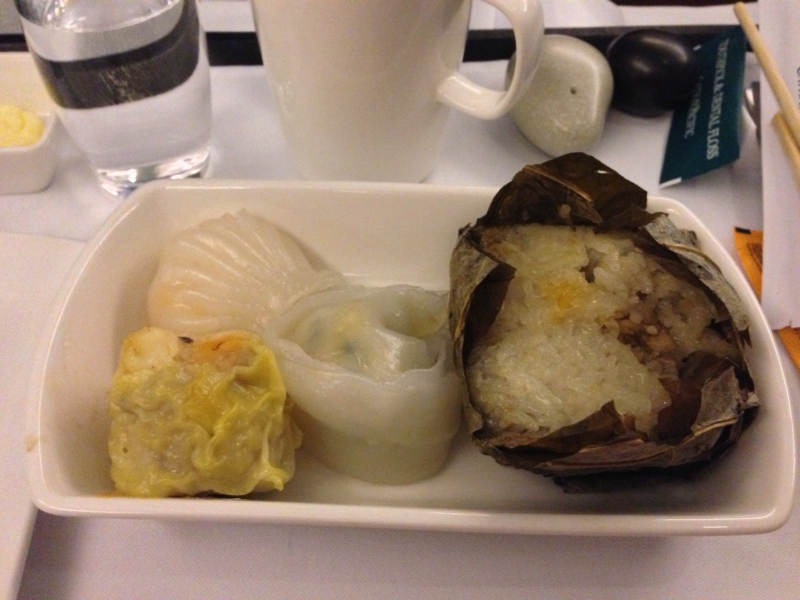 Although I have been on the Paleo for the last few months, I knew there would be times this trip when I would break it, and decided that this would be one of them. So dim sum and sticky rice it was! Now presumably this is a dish that is relatively easy to reheat in an airplane environment, since it was really really REALLY good. (Or perhaps I found it so good since it was the first time in over two months that I've eaten rice!). Steven had the frittata, and said that was good too.
Soon after breakfast service, we started to prepare for landing. Even though it was almost a 16 hour flight, it really seemed to fly by. Of course, not being cramped in economy probably helped.
We had a 3+ hour layover in Hong Kong before our next flight to Singapore. Steven is writing an entry about the lounge hopping we did there, which should be posted soon.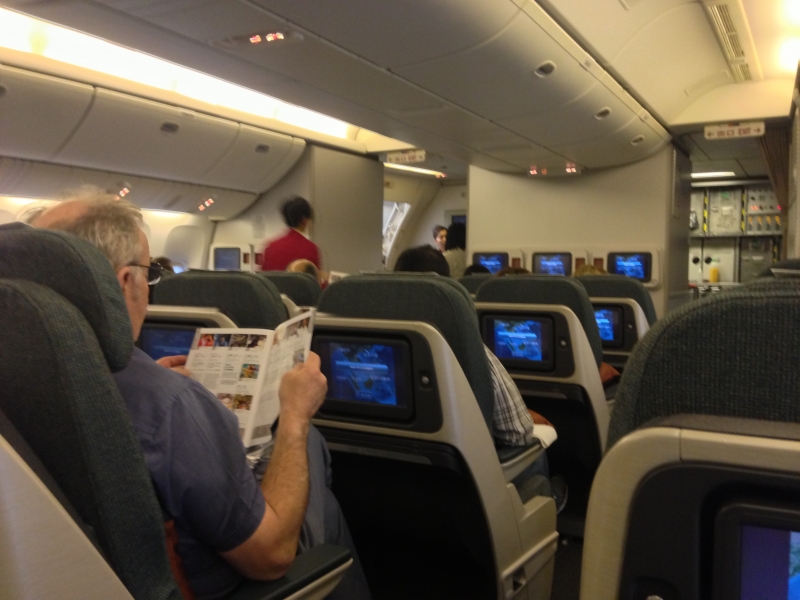 The flight from Hong Kong to Singapore was of course a much shorter flight - scheduled as 3 hours and 50 minutes. While also on a 777, it was configured in what Cathay calls their "new regional business class". After just getting off the long-haul configuration, I had pretty low expectations on the comfort of the seat, but I was pleasantly surprised. While the seat doesn't go flat, it does recline a fair bit, and the padding makes it super comfortable. It doesn't provide the same level of privacy as the long-haul configuration (there are 7 seats across, in a 2-3-2 configuration), but for such a relatively short flight that doesn't matter. Steven's favourite part of this plane was the dedicated iPhone holder!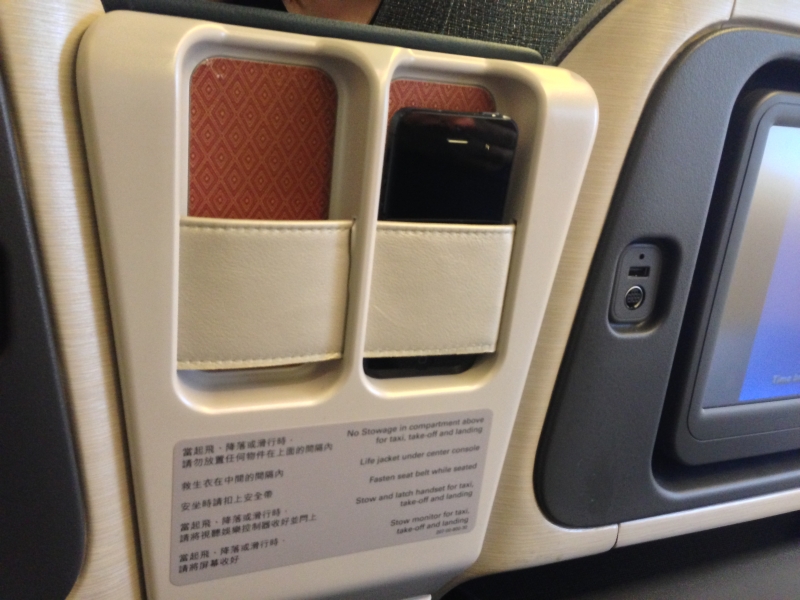 Of course, we were fed again -- another breakfast! I had another yogurt, and an omelette with ricotta cheese. One more episode of Girls and a quick nap later, we were in Singapore!
Overall I enjoy flying on Cathay. While the food was a bit hit and miss (especially at dinner), the hard product (comfort of the seat) makes up for it. Plus the consistent professionalism and friendliness of the crew is hard to find on North American airlines. (I'm not saying that there aren't lots of professional and friendly crew working for North American airlines -- it just doesn't seem to be as consistent!)