The GuysWhoTravel are back from Vegas, and I am happy to report that a fantastic time was had by all.
Mike's Vegas cherry was finally taken, and he really enjoyed himself and expects to come on our next Vegas excursion in August. Hopefully by then the sunburn he got on Saturday at the Aria pool will have gone away.
As mentioned in our introductory Vegas post, we ended up staying at three different hotels this weekend. We had a room at Aria from Thursday to Sunday, a room at Cosmopolitan from Friday to Sunday, and a room at Planet Hollywood for all the nights we were there. All of the rooms were comped, and came with offers of free food and/or gambling credits, which is why we got multiple rooms. But not to worry MGM Resorts International, Caesars Entertainment and Deutsche Bank, we gambled enough at all three properties to make the room comp worth your while!
Of the three hotels, it's hard to pick a favourite, but it's easy to pick the worst. Perhaps we set our standards too high, but Planet Hollywood really is a dump. The casino is fine (albeit I always get totally lost and disoriented in there), but the rooms have really gone downhill. The hallways were rundown, there was black mold in the shower, and the phone (at least in our room) was broken. If I had actually been paying for the room (or for that matter actually been sleeping there!) I would not have been happy.
Of course, to be fair, it's hard for Planet Hollywood to come close to living up to the other hotels we were at. We have stayed at Aria numerous times before, and it is probably our favourite place to stay on the Strip. The rooms are modern, nicely appointed, and fully automated, and even their standard rooms are a good size.
And we love the casino at Aria too. Steven and I tend to keep our gambling (or using the politically correct term, "gaming") to MGM properties, of which Aria is one. We have Platinum status in MLife until September of this year, so that gets us a bunch of perks at the casino and hotel. (For the record, we aren't quite sure how we got Platinum status - we gamble a fair bit, but nowhere near the level that they say you need to in order to get that status. We think it was a bit of a fluke as they converted over to the new program. We expect to drop down a level or two once this program year is up).
And I realize that it sounds strange to say that a casino smells fantastic, but this one really does! They even sell the scent if you want your home to smell like the casino! 
As much as we love Aria, since we had the offer to stay free at Cosmopolitan, we had to give that a try as well. And it did not disappoint. We were given a "Terrace Studio" room, with a balcony that overlooked the strip. (It claimed to be on the 51st floor, but since hotels in Vegas do not have any floors starting with or ending with the unlucky number 4, it wasn't REALLY the 51st floor!). 
I would describe the decor of the room as "hip", in comparison to Aria's "clean", but it was still pretty impressive. Steven said he liked the decor of the Aria room better, but for me it was tough to choose between the two (notwithstanding the fact that the Cosmopolitan room was much bigger than the standard size room we got this time at Aria -- although we have stayed in the one-bedroom corner suites at Aria in the past and those win hands down).
Here's a slideshow of pics from our Cosmopolitan room:

Highlights of the trip:
The pillows at Aria!!!! OMFG - I love those pillows!!! It was like sleeping on clouds. In fact, I loved them so much that I bought 6 at the gift shop and brought them home with me (thankfully, Zak purchased new luggage that fit 4 of the pillows, and I brought the other two back carryon). 


Bally!!! No, not Bally's - that place is a dump. I'm talking about Bally. No trip to Vegas would be complete without a visit to the Bally store at Crystals. I'm not sure why I love Bally so much - it must be their cool neutral Swiss aesthetic. We don't get there very often, but the salewoman always seems to remember us, which probably speaks to either the professionalism of their staff, or the memorability of me and Steven (or perhaps both). Steven and I have each bought cross-body messenger bags in previous trips, and this time I bought some shoes. I was drooling over the cross-body bag that they just came out with in light-blue, but since I already have the same bag in dark-blue I couldn't quite justify the purchase.  

Pool day hanging with the GuysWhoTravel. We spent most of Saturday lounging by the pool at Aria. It was a perfect day. We are used to being in Vegas in August, when it is so hot that unless you are in the water or the shade, you will sizzle like bacon in a matter of minutes. But Saturday was the perfect temperature for the 4 of us to lay by the pool and have a great relaxing day.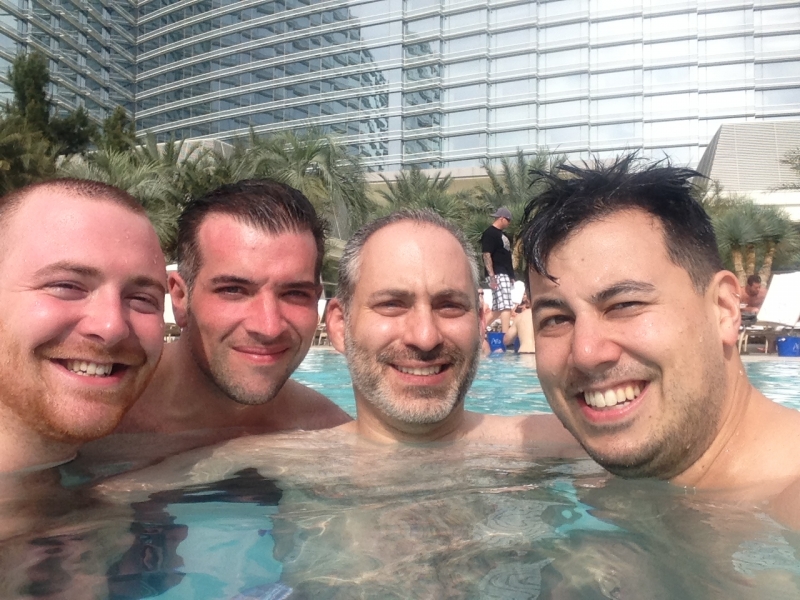 Front row tickets for Le Reve. This was the third time Steven and I have seen the show, and the first for Zak and Mike (obviously, because as mentioned he was the Vegas Virgin). We love, love, love this show. And I don't know why the "splash zone" tickets in the first two rows are the cheapest, since we think they are the best in the house!




Super Monopoly Money! Damn you WMS Gaming, why do you always come out with such fun games to play!!! We loved playing their new Super Monopoly Money slot. In one spin I earned $100 in "Super Monopoly Money" and then spun the wheel for 7x to end up winning $700. (See the video below for me doing a little happy dance as I win). Of course, not to worry, I managed to give that back over the weekend, nonetheless, that win certainly kept me from being too much in the hole for the trip!
Wicked Spoon at the Cosmopolitan. We've eaten at this buffet many times, but it never fails to impress. Best buffet on the strip. (Although we haven't tried the new one at Caesar's yet -- we hear that's tough competition).
Lowlights of the trip:
The aforementioned icky room at Planet Hollywood


Redeyes. I'm getting too old for redeyes. Mike and I flew the red-eye back on Air Canada from Las Vegas to Montreal Sunday night, and then an early Monday morning flight from Montreal to Toronto Island (YTZ). As I mentioned in a previous post, I was hoping that the extra hour's sleep to Montreal over Toronto would make more more rested, but alas it wasn't to be. Even though I slept pretty much through both flights, I was a total wreck on Monday and even on Tuesday. I don't bounce back quite the same as when I was younger. So someone please remind me next time I suggest doing this: NO MORE REDEYES FROM THE WEST COAST BACK TO TORONTO!!! Redeyes to Europe are fine because of the extra time involved (and because the majority of those flights ARE redeyes). But even if it means taking an extra vacation day off of work, my body just can't take the shorter redeyes anymore!

But all in all, another great Vegas vacation. Looking forward to our next planned trip there in August!