Like most Canadians I have a love-hate relationship with Aeroplan. Actually, I take that back. Like most Canadians, I used to love Aeroplan, but now I just hate them.
Up until a few years ago, Aeroplan was a pretty good program when compared to other programs around the world. They didn't charge crazy fuel surcharges for redemptions on most airlines (their own metal notwithstanding), and they had some pretty sweet redemption levels to some regions (for example, Steven and I flew YYZ-YVR (stop-over for Christmas) - SYD (open jaw) AKL-SYD-YVR-YYZ all in business class for 100,000 miles per ticket. Under Aeroplan's current award chart, that ticket would cost 135,000 miles. .
What broke the proverbial camel's back was Aeroplan starting to charge fuel surcharges when redeeming on many of their partners. For example, last year when I redeemed Aeroplan miles to fly business class to Tel Aviv on Austrian (outbound) and Lufthansa/Air Canada (return), I paid over $600 in fuel surcharges. Had I booked the exact same flights using United or US Airways points, this wouldn't have been charged. There is some debate on if the charging of these surcharges is Aeroplan's doing or Air Canada's (they are separate companies - and the fuel surcharges end up in Air Canada's pocket as the ticketing carrier, not Aeroplan's nor the company flying the metal). But the end result is the same - redeeming Aeroplan miles for certain awards can be an expensive proposition unless you are very lucky finding availability on the few carriers that they DON'T charge fuel surcharges on.
I plan to ditch my Aeroplan points through points.com. Points.com is a website which allows you to transfer points/miles between different programs. Normally I would NEVER recommend using points.com, since the transfer ratios are generally terrible. For example, if I tried to trade 50,000 Aeroplan miles, I would get 18,669 American AAdvantage miles in return. No thank you. The only time in the past that I have made a transfer on points.com is when I had some Iceland Air points that were about to expire and I couldn't otherwise use, as well as when there was a promotion that ended up earning me 16,500 bonus Aeroplan miles.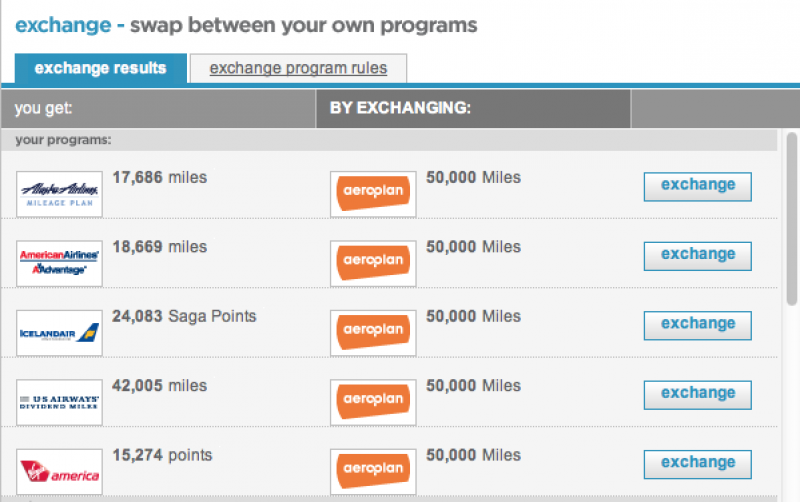 However, there is one transfer that I DO recommend. For some reason, the transfer ratio from Aeroplan to US Airways' Dividend Miles is extremely reasonable. For 50,000 Aeroplan miles, you get 42,005 US Airways miles. Still a bit of a loss, but given how there are no fuel surcharges when booking with US Airways miles, and given some bargains on their award chart (90K miles business class to north Asia), it feels like a good trade to me.
But the kicker here is that with the upcoming merger between US Airways and American Airlines, these miles will in all probability be merged into my American Airlines AAdvantage account. No one knows for sure what the merged program will look like, but people seem to be putting their money on it looking much like the existing AA plan. And I love, love, LOVE AA's AAdvantage program. I've found availability to be fantastic on both their metal and on most of their OneWorld partners, and they only charge fuel surcharges when redeeming on British Airways flights. For example, to get to the cruise we are going on next week, Steven and I booked business class tickets on Cathay Pacific using AA miles. For the flight from Toronto to Singapore (changing planes in Hong Kong), and then direct back from Hong Kong, the cost was 110,000 AA miles per ticket plus $70 in taxes. A similar itinerary using Aeroplan miles on Star Alliance partners would have been 125,000 miles plus probably over $600 in taxes).
So in effect I will be converting my Aeroplan miles into (eventual) AA miles with only a 16% loss of miles (but with a huge gain in value, at least in my opinion).
I could have waited until the US Airways / American merger got further along to do the transfer, which would have given me some more assurances as to what their new program would look like. But there's no guarantee that this transfer ratio will continue to be this amazing on points.com, so I would rather do it now rather than lose out later!
And if for some reason a great Aeroplan deal comes along and I need some miles, I have over 200,000 American Express points that I can transfer in 1 for 1. (See my post here on a great Canadian card for earning American Express points - including 20,000 free on signup).
What are your thoughts on Aeroplan? Are you sticking with it, or abandoning ship? Do you think I'm doing the right thing? Please post your thoughts below.
(Click here to read my follow-up post on why, despite all this, I still plan to credit miles to Aeroplan this year!)